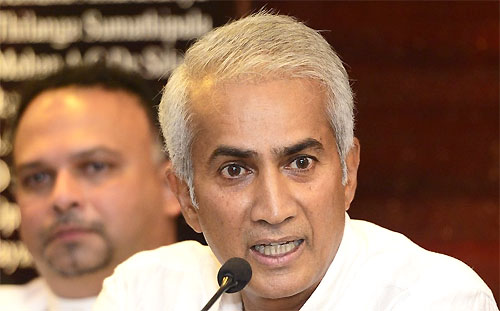 Retired cricket star Mahela Jayawardene has masterminded what has been promoted by Sri Lanka Cricket (SLC) as a long-term plan to restructure the entire domestic cricket set-up, basically shifting the present club-based system into a predominantly zonal system but the meticulously planned new move is most likely to face a disappointing stillbirth in the face of mounting opposition from the game's stakeholders who still call the shots when decisions are taken according to democratic principles.
Jayawardene has instigated the new system which plans to render the present system headed by clubs onto a lesser important role while lifting up the artificially structured zonal system. It has been touted by SLC'S interim committee officials as the way forward for the game's future, but several key men from stakeholders, representing different factions of the cricket's political spectrum, made it clear to "Daily Mirror" in no uncertain terms that the new system will be consigned to the garbage bin when they come into power at SLC.
With SLC elections scheduled for January, it ominously appears as the realistic fate for the new plans that however appear comprehensive and promising for the development of cricket in Sri Lanka.
The basic drawback of the plan is the likelihood of present stakeholders eventually losing their voting power to elect officials to SLC, especially after the report of a committee appointed by the sports ministry to investigate alleged corruption at SLC suggested taking away the democratic right of stakeholders to elect office bearers by enforcing a new system using government's cabinet powers.
"We have noted that the basic problem in the administration of SLC, is its composition, where stakeholders from the far flung outposts of Sri. Lanka decide what the future of the game should be. It has been intimated to us that certain individuals control doze of votes and that they are the favourites of the elected office bearers. It is our opinion that 147 votes among 86 stakeholders is unwieldy considering the volume and geographical magnitude of cricket in Sri Lanka.
Since a change to the Constitution of SLC can only be made by the existing stakeholders and it seems unlikely that voting members would support a move to .forego that privilege, a change in the legal structure of SLC would seem a reality only by Cabinet intervention where an immediate and a drastic change can be effected to SLC" recommended the report handed over to the Minister last month.
So, unless such dramatic political arm-twisting by the government is effected, the system and in turn the new plans for a revamped domestic tournament structure seems a distant possibility while such an act by government is certain to attract stern action from the game's global keeper ICC who would obviously view it as blatant political interference in the administration of the game.
One prominent stakeholder pointed out that the reason given by former Sports Minister Navin Dissanayake when he appointed an interim committee in April was to facilitate the much publicized corruption probe and let the committee conduct their investigations without hindrance.
"It was definitely an interim measure only. These people were supposed to be in control of SLC and handle day to day affairs for a short period till the probe was over and elections were held. They simply do not have a mandate to make long term plans or effect such sweeping constitutional or structural changes. This is like a babysitter looking after the baby for a few hours making plans for the baby's future education, employment and marriage" he said. SLC interim chief Sidath wettimuny however insisted that they were doing it all for cricket.
"This has been done for the welfare of cricket. We believe this is good for cricket. Someone like Mahela Jayawardene won't suggest this if it wasn't good for cricket" Wettimuny told a media conference to announce the new tournament format named by them as the "Elite Championship".
"I have told the honorable minister - please don't change these things for at least three years. Because what happens at the end of the day is, we run in the same place. If something is bad change it. But if something is good keep it. This is the way to go" said Wettimuny.
"If somebody wants to come and change it, there is nothing I can do about it. But I can say if people have the game at heart and they want to develop the game, then they must continue. I can only hope the people working in the board will convince whoever comes that we must continue this" said Wettimuny.
"People coming in and look at it would say; this has been done by some people who have played decent cricket, people who have cricket at heart and continue. But if they don't, there's nothing I can do about it" Wettimuny added.
SLC Chief Executive Ashley de Silva revealed that they have already kept the stakeholders informed of planned changes.
"We basically had a few meetings with the stakeholders. The chairman himself has briefed them about it. The creator of the concept Mahela has also briefed the stakeholders. Most of them have been convinced of the concept" said de Silva. Wettimuny claimed stakeholders had nothing to fear.
"It is not anyway causing harm to the stakeholders. It will only strengthen our cricket. We always say we must strengthen the stakeholders. There is nothing to take away from the stakeholders. Even when Mahela spoke to the stakeholders, they had nothing against it" added Wettimuny.
Wettimuny was also confident that practical issues such as jobs for players would be resolved over time. There had been several attempts in the past to moot a district or provincial based system for domestic cricket, but one factor that attracted players to Colombo was the unavailability of jobs out of Colombo.
"Initially they won't need to be based there as such. When these tournaments are on, we have to find accommodation. Initially, we can handle it. But it's the long term process we have to think about. When we think about cricket, we must think ten years ahead. Other countries have brought in 10 year plans, 50 year plans. We must think ahead. Because today, the bulk of our cricketers are coming from the outstations. That's a fact. There is more hunger and thirst among outstation cricketers. We'll attract more into the system if we develop these guys to be in their own home territory and play. That's the whole purposed. Everybody doesn't need to come to Khettarama and train. All we are doing is taking it to them. They will have all the facilities" explained Wettimuny.
"Basically we are superimposing what we have in Colombo in the outstations. That way we will ultimately develop better cricketers. There are lots of kids in the outstations that play cricket and then forget about it as they have to go to Colombo" said Wettimuny.
"We are assuming jobs are not all in Colombo. If you take banks and all big companies they are today in all these areas. Eventually, there will be less migration. We must always say let's think ahead. We got to think ahead and do what is best for future" he added.
"Policy decisions will be made by the central. The same policy will be passed onto the bases. That way we have a more robust, dynamic system. Otherwise things are only happening here" said Wettimuny.
Source: Daily Mirror - Sri Lanka
comments powered by