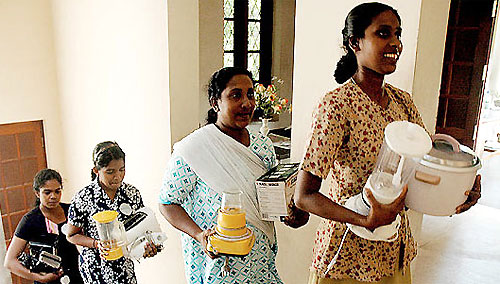 Offering voting rights for all Sri Lankan nationals working abroad is not possible at the moment as it could be used towards election malpractices, Foreign Employment Minister Thalatha Athukorala said yesterday. She made this remarks in response to a petition containing around 3200 signatures of migrant workers who sought voting rights via the petition which was presented by the 'Ethera Api' organization, a Sri Lankan group working for the rights of migrant workers.
Ethera Api organization urged the minister to allow Lankan migrant workers to cast their votes at every election through the Internet citing migrant workers are currently unable to vote at any election held in the country due to travel and other costs for the journey. "The proposal is really a good one. Sri Lankans who work overseas provide the maximum amount of foreign exchange for the country hence they are supposed to take part in the process of selecting political leaders to their native country. But, there are problems in setting up this action. The only fair election held in our country is the Presidential Election held last August. Confidence towards a free and fair election is still being set up. We have fears that the votes that will be cast electronically by our migrant workers could be tampered with," Minister Athukorala said. However, she said the Foreign Employment Minister alone cannot provide solutions to the matter and higher government authorities including the Election Department should collaborate with the ministry to ensure voting rights for the migrant workers. Meanwhile, the immediate implementation of a pension scheme and a minimum wage to its overseas workers was among several other requests made by the Ethera Api organization to the minister. Ms. Athukorala said herministry is set to provide the pension scheme according to the profession level of migrant workers who have completed 2 years of foreign employment.
"The scheme is being mooted. We are holding discussions with the Finance Ministry on this matter. Meanwhile, a minimum wage for Lankan workers working overseas has also been taken into our thorough consideration. We have to have agreements with the particular countries. Agreements have already been signed with some countries including the UAE and Kuwait and we will begin talks with the relevant authorities in other countries on the above issue in the near future," she said.
Source: Daily Mirror - Sri Lanka
comments powered by