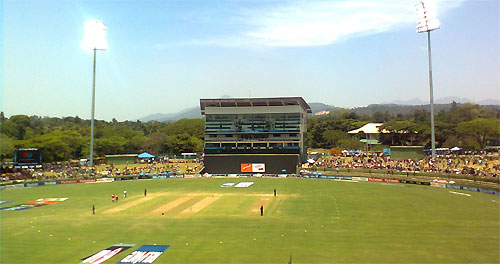 The committee report has also revealed that political influence had forced SLC to award the contract worth more than a billion Rupees for the renovation of the R. Premadasa stadium for the 2011 World Cup to the State Engineering Corporation (SEC) without going for the best bid.
"The major renovation/re-development of RPICS for the 2011 World Cup commenced in the latter part of 2009. We have been provided with the relevant documentation pertaining to the said renovation, including the Letter from Hon. Dr. Rajitha Senaratne, Minister of Construction and Engineering Services dated 12 October 2009 and the Letters dated October 2009 and January 2010 from Hon. Gamini Lokuge, Minister of Sports and Public Recreation.
By the said exchange of correspondence, it has been directed by the said Minister of Sports and Public Recreation to SLC to handover the contract to the State Engineering Corporation of Sri Lanka (SEC). Accordingly, the Chairman of the then Interim Committee (2009/10), Mr D.S. De Silva and other committee members entered into a Construction Contract (Redevelopment) dated.9 December 2010 with the SEC in terms of the Memorandum of Understanding made on 2 December 2010, for a contract price of Rupees One Billion Three Hundred and Ten Million One Hundred and Eighty Nine Thousand Two Hundred and Five and Cents Nineteen (Rs. 1,310;189,205.19)" stated the report.
"Mr Nishantha Ranatunga, was the Secretary from 2009 until 3Q April2015 with the exception of July 2011 to January 2012. He- provided us information by presenting himself at the inquiry and stated that tenders had been called for the reconstruction and redevelopment of RPICS and shortlisted companies had been invited to make presentations to SLC on the proposals submitted. However, due to the request made as aforesaid by Hon. Ràjitha Senaratne to the Hon Minister of Sports that SEC be awarded the contract, Hon. Minister of Sports had directed SLC to award the contract to SEC" added the report. The committee also said that they were not convinced that a contract worth Rupees Nine Hundred and Eighty Five Million Nine Hundred and Ninety Thousand and Ninety Five and Cents Sixty Six (Rs 985,990,095 66) for the construction of Pallekele stadium had been awarded according to accepted procedure. "We find no evidence that regular tender and approved financial regulations and other procedures being followed in the construction of PICS" said the report.
The committee also claimed that they were unable to verify if proper procedure had been followed in the construction of the Mahinda Rajapaksa stadium in Suriyawewa. This contract worth Rupees Two Billion Four Hundred and Fifty Two Million Nine Hundred and Ten Thousand and Thirteen and Cents Forty Three (Rs. 2,452,910,013.43) exclusive of any contingency provisions, provision for price escalation and VAT was handled by China Harbour Engineering Company and Sino Hydro Joint Venture as a variation order of the Hambantota Port Construction Project.
"Accordingly, we have not been furnished with any material to establish that regular tender and approved financial regulations have been followed in the construction of MRICS" stated the report. We find no evidence that regular tender and approved financial regulations and other procedures being followed in the construction of PICS
Source: Daily Mirror - Sri Lanka
comments powered by