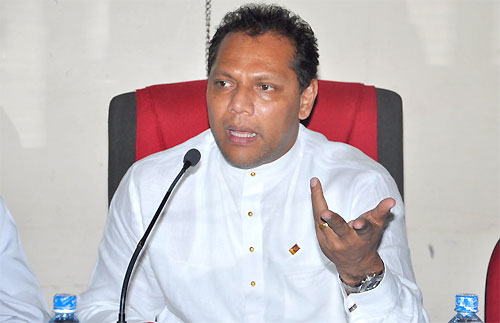 The committee which investigated the alleged corruption at Sri Lanka Cricket (SLC) had failed to find evidence or proof of any misdeeds and had not recommended action against any former officials of SLC, Sports Minister Dayasiri Jayasekara revealed on Saturday.
"We read all the ideas and recommendations of the appointed committee. Nine recommendations have been made. But nowhere in those nine recommendations does the report ask to initiate legal proceedings against a person. The report does not call for specific action, take action against a particular person, or initiate a disciplinary inquiry against a person. It does not present any evidence specifically on any charge or allegation."
Minister Jayasekara disclosed at the foundation laying ceremony of the proposed indoor cricket nets at Dambulla Cricket stadium.
Former Sports Minister Navin Dissanayake who dissolved the SLC and appointed an interim committee on April 1 this year had appointed this three member committee in an effort to find alleged SLC corruption which he proclaimed in several public forums and media conferences.
The committee appointed on May 27, comprised of three lawyers headed by Ravi Algama and included Jaliya Bodinagoda and Waruna Mallawarachchi. The main task of the committee was to investigate alleged corruption and abuse of power and authority at SLC prior to the appointment of the interim committee. The report which cost the Sports Ministry a staggering Rs. 3.7 million was handed over to Minister Jayasekera on September 28.
Minister Dissanayake who made allegations against the former officials of SLC ever since he dissolved the elected executive committee, had earlier appointed another committee without success in an attempt to prove his words.
That three-member committee appointed by Dissanayake on February 3 to look into alleged corruption of sports bodies was chaired by Former Secretary of the Ministry of Public Administration Dharamasena Dissanayake, Former Deputy Treasury Secretary N. Pathmanathan and Ruzly Husean, who represented the private sector.
Minister dissolved SLC before that committee completed their report and finally released the report to media in a well-attended press conference on April 28.
The 67-page report however turned out rather to be a farce as far as cricket was concerned after the massive publicity that surrounded allegations against former administrators of the country's most popular sport.
At the press conference Minister also claimed that a copy of that report would be handed over to CID for an investigation while claiming that his decision to appoint an interim committee to administer SLC was justified.
Minister Jayasekara said on Wednesday that he would release the report to media shortly as he is still pondering on a few policy decisions following a discussion with Ministry officials who were appointed to review it.
"As a responsible minister, I will ensure the finding of the real culprits and taking legal action against them without assassinating characters of others. We know clearly that there were some problems and irregularities. Some of those problems were beyond the control of SLC. They were helpless sometimes," said the Minister.
"If a group of people come to a cricket stadium early in the morning and remove bulbs, chairs and equipment by force, who is responsible? When top people from high political offices do these things at two or three o'clock in the morning, what can the security officer do? He is helpless. If there is an investigation, an innocent, poor man will have to pay for it."
"I have understood these complications in the issues and hope to intervene in an independent manner. As soon someone tells a newspaper that this man is a thief or that man is a thief, it is not the correct thing for me to join the chorus and say thief, thief wherever I go. The right thing is to investigate thoroughly and judge whether that person has really committed a crime".
"Media has a right to criticize. But on the other hand, we should also consider the injustice caused to people who had been criticized without proper evidence. When a person is branded a thief or a robber based on allegations, what compensation would he have when he is acquitted of those charges after a proper hearing?" questioned the Minister.
"I am pointing out this to both print and electronic media as this has become a huge problem today in our country. Media require breaking news from hour to hour and sometimes even every five minutes. So they have been forced to break something. The party which becomes a victim due to that will have no place to go," he added.
Jayasekara revealed that there are some positive suggestions in the report too.
"The committee has expressed suspicion about certain agreements. We will take decisions on them. But when I explain the real situation to a newspaper or a television channel, people start shouting Dayasiri Jayasekara is defending thieves. Media would start slinging mud at me saying Dayasiri is pally with this man and that man. I am friends with all these people. I know them all for so many year. I said it at the start. But I don't take decisions looking at the face of someone. I take the correct decision. Any friend can abandon me. But that is my way," asserted the Minister.
Source: Daily Mirror - Sri Lanka
comments powered by