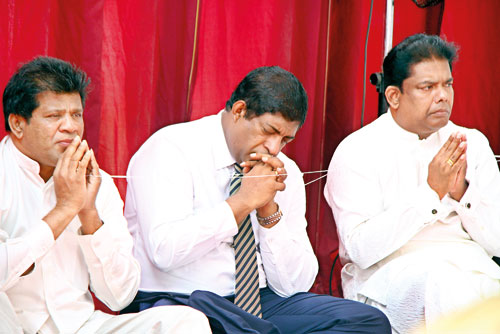 Some media reports have said that Foreign Minister Ravi Karunanayake, who had been pressurized to resign from his duties due to the allegations made by the Bonds Commission, will come to the cabinet meeting today (August 9).
As usual, the cabinet meeting held on Tuesday was held at the Presidential Secretariat this week this morning (Aug. 9). The foreign minister did not attend.
"Several ministers told the BBC Sinhala Service that they discussed the manner in which the Attorney General's Department functioned, even though it did not discuss the resignation of Ravi Karunanayaka at the cabinet meeting.
Another minister said that the Cabinet of Ministers discussed the failure of the Attorney General's department to deal with large-scale frauds or corruption that are being dealt with by the COPE in the past.
Political sources say that discussions have been held regarding the resignation of Foreign Minister Ravi Karunanayaka yesterday (Aug 08) between Ministers and SLFP ministers and President Maithripala Sirisena.
These SLFP ministers have asked the President to remove him from his post if Ravi Karunanayake does not resign from his post.
A minister who participated in the discussion told the BBC Sinhala service that the President had stated that the solution would be a solution within the next few days to the issue of minister Ravi Karunanayake.
Minister of State Enterprises Development Lakshman Yapa Abeywardena who made a statement to the media prior to the commencement of the meeting between the President and the SLFP yesterday (8th) said that the President also removed the actions of the former Central Bank Governor Arjun Mahendran He said.
"If the accused persons love the Party and the country, the government should be made confident without resorting to embarrassment," the minister said. "If they have a correct name, they can come back to the post of minister."
Minister Yapa Abeywardena responding to a query raised by a weekend newspaper that he had informed minister Ravi Karunanayake that he had resigned informed him that he was resigning. In response to a question posed by the minister Lakshman Yapa Abeywardene, he said that the newspaper is usually a newspaper that accurately reports the newspaper. .
However, a message from Ravi Karunanayake, paying his official Facebook Facebook account, said that he did not have such a discussion between himself and the president.
A senior minister who met Ravi Karunanayaka has told the BBC that a group of UNP ministers have requested Ravi Karunanayake to withdraw from the position of the party and the government until the inquiry is over and he has made a positive response.
Can the debate be raised by the joint opposition against Minister Ravi Karunanayaka? Speaker Karu Jayasuriya has been told that he will announce to Parliament tomorrow (10 August).
However, the BBC's Sinhala service did not succeed in contacting Ravi Karunanayake's response to the situation.
Source: BBC Sinahala
comments powered by