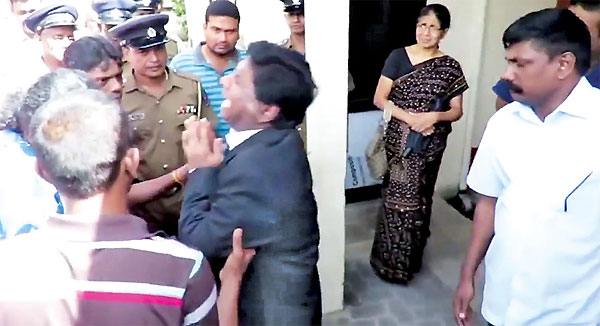 Jaffna High Court Judge, M. Ilancheliyan, vowed to protect his two children for the death of his guard.
He was given this pledge at the funeral of Sub Inspector Sarath Hemachandra who was killed.
"I have two children, both sons and sisters, from today I am taking care of Hemachandra's daughter and son, now I have four children, and I will accept the future of my two children till my death." Judge M. Ilancheliyan said.
He stated that it was not only his duty, but also the responsibility.
"I look after these two children as my own children, and I will give not only the education of this daughter, but also the money I need for the future." "The judge added.
The police sergeant who protected him for the past seventeen years of age, who could not bear the death of his victim, was unable to salute his coworker's wife and cry when he was in the television shows.
Jaffna High Court Judge M. Ilancheliyan emphasized that he was targeting the Jaffna Nallur Kovil at Jaffna junction but was not targeted by the judge.
Three persons who were drunk had started a clash with a group of three-wheeler drivers at a place in the area, police spokesman said.
High Court Judge A tri-person panel of judges is investigating the case of Yogeshwaran, a schoolteacher who is alleged to have raped and killed the schoolgirl.
Source: BBC Sinahala
comments powered by