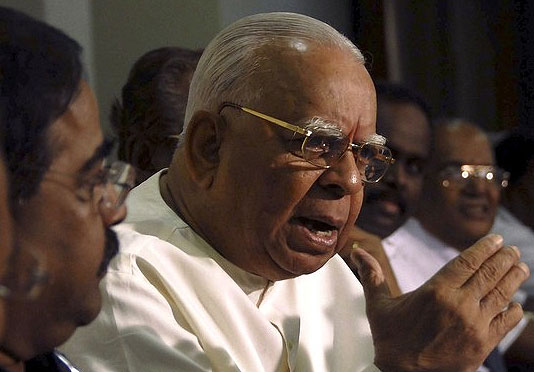 The Tamil National Alliance (TNA), has never advocated a separate state, but has right along been for maximum devolution in the North and East of Sri Lanka, its leader R. Sambandan said yesterday. He told a press conference in Colombo that a perusal of the TULF's 1978 manifesto (which was representative of the Tamils) will reveal that they had never wavered from their comitment to a unitary Sri Lankan State.
"I am prepared to meet President Mahinda Rajapaksa to discuss genuine devolution for the Tamils in a merged North and East," Sambandan said. "We realised after participating in the APRC established by the Rajapaksa government, that it was used as a forum to buy time and also fool us in the process. We are willing to talk to President Rajapaksa, only if he is interested in conducting serious negotiations and not the type of bluffing exercise that was enacted over the last four years."
He said that Rajapaksa, in an attempt to counter the Opposition's Common Presidential Candidate Sarath Fonseka, pledged to remove the High Security Zones in the North. "The time has now come to match his words with action."
Citing examples of power sharing in India, Canada and Australia, Sambandan said that those countries had developed due to the foresight of their leaders. Sri Lanka can either progress or stagnate. The choice is in the hands of the majority.
Courtesy: Island