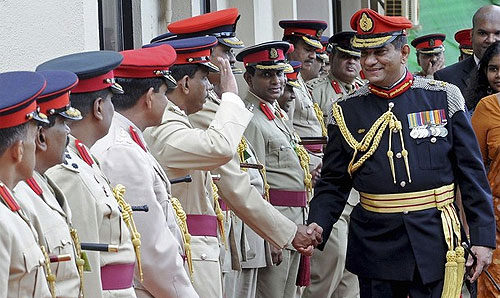 Twelve top Sri Lanka army officers including three Major Generals have been asked to retire from the service with immediate effect over a 'political conspiracy' while in the service, a highly placed military official said yesterday.
"These officers have been asked to retire as their service is no longer required to the Army," the military official told the Daily Mirror on the condition of anonymity.
He also said that among these officers, there were two Brigadiers and Colonels, Lt. Colonels and Captains.
"The Army Headquarters had already informed these officers about this action," the official added. He said these officers were close to former Army Commander General Sarath Fonseka.
He further said that necessary legal action would be taken against these officers for the charges against them under the normal law of the country.
The latest development comes just hours after a series of transfers of the army's top most officers. The Criminal Investigations Department (CID) has already commenced inquiries into the alleged 'political conspiracy' that was supposed to have taken place during the last week's Presidential polls.
Last Friday the CID arrested Brigadier Duminda Keppetiwalana, a serving officer who is the Commandant of the Army Training School in Ampara.
He held the position of Military Assistant when Gen. Fonseka was Commander of the Army. Accordingly, more than 20 other retired officers and soldiers are now in custody and more are due to be arrested. Another official source said that a large number of senior and junior officers, who have been transferred to the office of the Chief of Defence Staff are to face inquiries in connection with the alleged 'political conspiracy'.
Courtesy: Daily Mirror