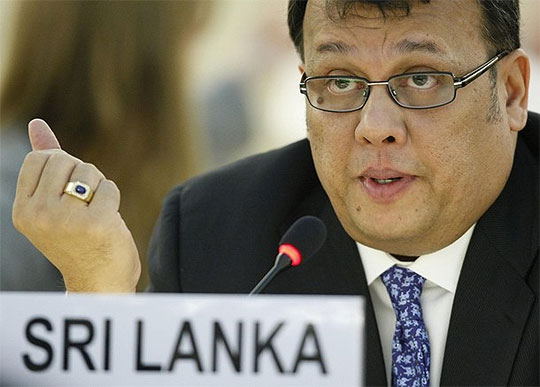 Disaster Management and Human Rights Minister Mahinda Samarasinghe, at a special media conference held in Colombo on Thursday, said that Presidential candidate Sarath Fonseka had made a statement to international media that he was being prevented from leaving the Cinnamon Lake hotel. The area concerned was a high security zone and the government had deployed a strong security unit. The road had been sealed but if Sarath Fonseka wished to leave the hotel he could do so.
It is believed that a good number of army deserters with weapons were with General Fonseka. The government security forces took nine deserters into custody on Tuesday morning.
Minister Samarasinghe said that the real facts were being distorted by the international media and Sarath Fonseka had also said that he was under house arrest. The government had no such plans to arrest Sarath Fonseka and he was making false statements against the government in the face of the election defeat.
He pointed out that Sarath Fonseka and his group entered the Cinnamon Lake hotel on January 26 at 4.15 p.m. and tried to portray a different picture to the international community.
National Freedom Front Leader Wimal Weerawansa said that President Rajapaksa had won a landslide victory and Sarath Fonseka lost his stature because of his ugly utterances. He was carrying a mud-slinging campaign against the Rajapaksa family. In other words he was carrying out an anti-cultural campaign. People did not want to accept his policies.
He pointed out that if he became the President of this country he would have formed a military government without doubt. President Rajapaksa received 59 per cent of the vote and an undisputed mandate. Sarath Fonseka's group had tarnished the image of Sri Lanka misconstruing that he was under house arrest and was being prevented from leaving the hotel.
Courtesy: Island