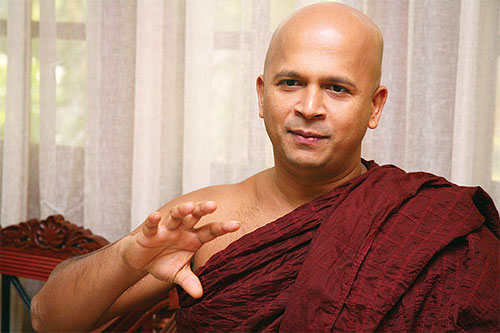 The Maha Sangha will rise against any attempt to harm the country using foreign forces using the votes obtained by Sarath Fonseka and TNA Leader R. Sampanthan at the Presidential election in the North and East, Ven. Uduwe Dhammaloka Thera said.
Speaking at a press conference in Colombo yesterday, Ven Dhammaloka Thera said it is reported that Fonseka is canvassing the international community that the Presidential election was not free and fair.
"We request Sarath Fonseka to stop harming the sovereignty and territorial integrity of the country by further involving the international community," he said.
The Thera said that Sarath Fonseka is a novice in politics. "We ask him to desist from engaging in cheap politics. "We as the Maha Sangha will treat him as a war hero so long as he does not become a political pawn".
Commenting on the agreement between Fonseka and TNA Leader R. Sampanthan, the Thera said Sampanthan has told he does not like self-rule. The Maha Sangha has already discussed with President Mahinda Rajapaksa about this agreement on January 23.
"We will soon reveal what action would be taken to prevent a harmful impact to the country by this agreement," he said.
He said Fonseka should humbly accept the election results which is the verdict of the majority of the people in the country.
"The blessings of the Triple Gem will be invoked for all who worked for the historic victory of President Mahinda Rajapaksa. It shows that Sri Lanka is a country of grateful people and that there is no room for any international conspiracy against it.
Courtesy: Daily News