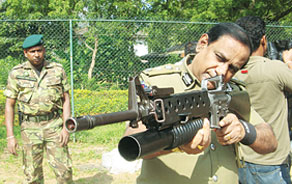 Polls monitoring body PAFFREL says that Inspector General of Police (IGP) Mahinda Balasuriya had informed them that the transfers of Northern Province Senior DIG Nimal Lewke from Vavuniya to Colombo and Vavuniya OIC Saman Sigera to the Police Welfare Division by the Inspector General of Police (IGP) have been cancelled.
Elections Commissioner Dayananda Dissanayake had reportedly cancelled these transfers after being informed by PAFFREL.
The Elections Commissioner was not available to clarify further on this issue. However Additional Commissioner W.P. Sumanasiri said that he was not aware of the issue.
Meanwhile, IGP Balasuriya told Adaderana that he had informed the Elections Commissioner in writing regarding the matter and declined to elaborate further.
When Adaderana contacted Northern Province Senior DIG Nimal Lewke, he said that he had already taken up duties in Colombo and that he was still unaware of the cancellation of his transfer.
According to election laws officials from government institutions cannot be appointed, removed from service or be transferred during a specific period before or during an election.
Courtesy: Ada Derana