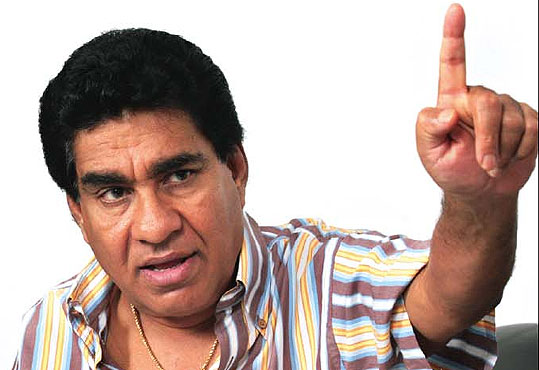 Non cabinet Minister of Labour Relations and Manpower Mervyn Silva yesterday said that he was flummoxed that no one had still responded to his Rs 40 million bet on President Mahinda Rajapaksa's triumph in the upcoming Presidential polls.
Speaking to LAKBIMAnEWS Silva said, "I announced that I was willing to take a bet of Rs 40 million that President Mahinda Rajapksa will win. I made this announcement so many days ago, but no one has responded . I cannot understand why people are not responding."
Speaking further the Minister said, "If anyone is afraid of me, ask them to go and do a balli thovil.I am a man from the south (Ruhuna). And people from the South always keep to their word. Besides I am a Sinhala Buddhist. So I never lie." In his bet of Rs 40 million Mervyn Silva has included a fleet of brand-new vehicles, and two luxury houses situated in Kotte and in Beliatta.
Courtesy: Lakbima