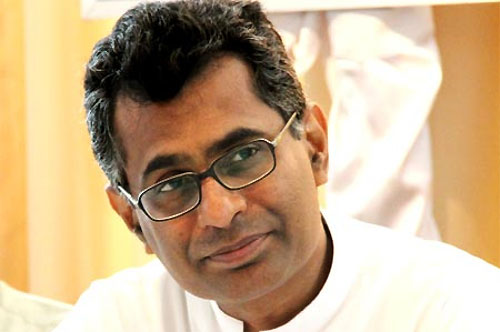 The government yesterday cautioned that there was a major risk of the January 26 polls becoming the last election the Sri Lankans had to face in decades if people were carried away by the 'fancy promises' for change.
Addressing a news briefing yesterday, Environment and Natural Resources Minister Patali Champika Ranawaka said history had proven that whimsical 'political experiments' binding disparate political groups would only bring destruction to nations.
"Next Tuesday the people have to decide whether they want to auction the country's hard earned stability and honour for a group of power hungry individuals who have banded themselves for all wrong reasons. These party leaders keep mum every time one asks how they are going to run the country with such diametrically opposing ideologies" Minister Ranawaka said.
"Any person with common sense would realize that this group will only lead our country towards a precipice of chaos and will make a mockery of our hard-fought battle victories and economic resurgence" said the minister.
He threw a challenge at the opposition to hold a joint party leaders' news conference and declare that they would not ruin the unitary character of the country.
"We invite Mr. Sampanthan, Ranil Wickremesinghe, Rauff Hakeem, Mano Ganesan and the JVP to hold a joint media briefing of opposition party leaders and say that they would preserve the unitary character of the Constitution" he challenged.
Some of these leaders such as Ranil Wickremesighe and Anura Kumara Dissanayake had said they would not divide the country but we urge all of them to come and say it together so that people would know that they were together," he said.
Western Provincial Council Minister Udaya Gammanpila who referred to the corruption slogan which the opposition was carrying on said the main cause of this corruption was the PR system. He said huge amounts were spent for campaigns to overcome the other candidates at elections under this election and businessmen and other goons get elected at the end instead of professionals. "We have seen professionals such as engineers, lawyers since 1931 when the country gained franchise but today there are only businessman and other goons in Parliament," he said.
Courtesy: Daily Mirror