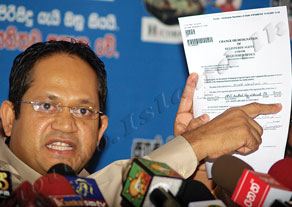 Former captain of the Army Upul Illangamge, who has accused Gen. Sarath Fonseka of abusing his powers when he was the Army chief, has sent a letter of demand to SLFP Mahajana Wing leader Mangala Samaraweera demanding Rs. 1,000 million in damages.
The resident of Edmond, USA, through his lawyer Athula de Silva, has sent the letter of demand which has noted two allegations Mr. Samaraweera has leveled against him after he held a media briefing on January 13.
The SLFP (M) leader has alleged the Sri Lankan embassy in USA had sponsored Mr. Illangamge's air ticket to Sri Lanka and that the government had paid him 2.5 million US dollars for having made the revelation against the general's son-in-law.
The two accusations are totally false, baseless and unfounded, and are defamatory, says the letter of demand.
Failure to settle the sum demanded within seven days will result in legal action being instituted to recover same, it adds.
When contacted, a spokesman for Mr. Samaraweera said they have not received a letter of demand from Mr. Illangamge.
Courtesy: Colombo Today