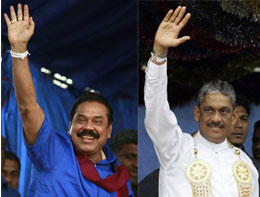 Two news items appearing in the Island of Monday, January 11, 2010 took me by surprise. One read, "Members of pro-Eelam organizations hurled slippers at the convoy of Sri Lankan Parliament speaker W J M Lokubandara and tried to attack him when he was visiting the Vaitheeswaran Temple (in India) on Saturday. The police prevented them from nearing the Sri Lankan". And the other entitled, "President takes Jaffna by storm" said, "Thronging crowds were waiting to welcome the president with garlands"
Obviously the Indian Tamil wrath against Speaker Lokubandara was caused by communal hatred left over by the war against the Tigers. But Lokubandara had no specific role to play in the war. By nature he is a peace loving man whose mental make up is furthest from that of a warmonger. To the best of my knowledge, he has never harmed the Tamils by word or deed. On the contrary, as his itinerary indicates, Lokubandara shares with his attackers a deep admiration of their rich Hindu culture.
Here in Sri Lanka, the man who claims the 'Cup' for demolishing Prabhakaran is warmly received by his blood relations with bouquets and garlands. Only a couple of days back his rival claimant for the same 'Cup' had been similarly received. Reportedly there had not been a hoot or a jeer, not even that international symbol of reproach, an item of footwear. Perhaps each of them might have conceded the other's claim, at the peak of the welcome jubilation!
My puzzle is to reconcile Lokubandara's experience in India with that of the rival Warriors in Sri Lanka. Why did the Indian Tamils who had not lost a pin in the war against the Tigers try to avenge their distant kinsmen here on an innocent pilgrim, whereas the latter that had lost many a life and limb in the venture, resorted to garlanding, granted that the garlands were no part of the visitors' luggage?
The difference between the two responses appears to reflect the evolution of Tamil culture since its arrival from India. It has become more mellow, forgiving, tolerant and understanding in the process. I have personally noticed this finesse in the culture of Sri Lankan Tamils, over a good part of my career that I spent among them. But how did this happen? Frankly I do not know the answer. I am not a Historian or a Philosopher. Has Gunadasa Amarasekara's Jathika Chintanaya anything to do with this evolution?
I look forward to an informed discussion on the subject and an unbiased, plausible answer to my question. Perhaps in that answer lies the key to National Reconciliation.
Courtesy: Transcurrents