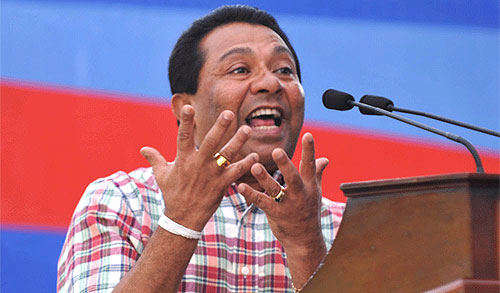 UNP crossover S. B. Dissanayake told the media yesterday that the Rs 300 million allegedly handed over to parliamentarian M. Muzamil by the Opposition had been given by a wealthy businessman and UNP strongman (name withheld on legal advice) and it was in bags bearing the name of the businessman's company.
Dissanayake said: "This is not the only time this man had tried to buy over politicians; a few years ago he tried to buy over JHU member Ven Uduwe Dhammaloka offering him Rs 50 million. I went to meet Ven Dhammaloka with that businessman to request the monk to crossover to the UNP and the monk refused. After we both came out, without my knowledge he had sneaked where the monk was and offered him Rs 50 million to cross over. Soon after their meeting Ven Dhammaloka telephoned me told me about the deal he had proposed."
Dissanayake said this UNPer was in the habit of winning over Parliamentarians by offering money and it was not something new for the UNP.
Responding to a question why he had not exposed the businessman concerned at the time it happened, Dissanayake said, "I couldn't do it since I was also a member of the UNP and had to defend the party."
Asked to comment on an allegation by the Opposition that he too had crossed over to the UPFA after taking a huge bribe, Dissanayake said he could never be bought.
Dissanayake said Gen Sarath Fonseka was a good soldier but he was too stubborn and would try to have his own way if elected President.
"Fonseka had six men to guard his daughters in the US but Rajapaksa's sons roam about freely without any guards," Dissanayake said.
When some of the Commanders objected to Fonseka being appointed Army Commander it was Gotabhaya who had brushed all these objections aside and made the appointment, Dissanayake said.
"It was President Rajapaksa who appointed Fonseka as the Chief of Defence Staff, though the Navy Commander was senior to him because Fonseka was insisting that he be given that post," Dissanayake said.
Asked whether he had ironed out the differences with UPFA General Secretary Maithripala Sirisena over the General Secretary's post, Dissanayake said "We are good friends now."
Responding a query whether he was a lap dog of India as claimed by his rivals, he said: "I have close relationship with India but nobody can control me."
Courtesy: island