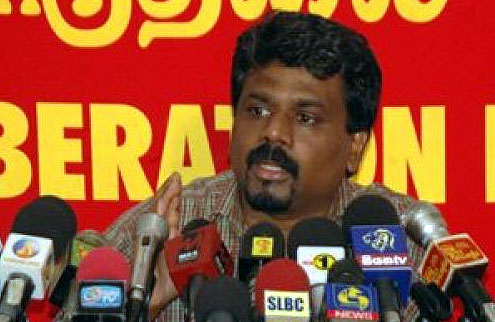 It is the government that is promotion and spreading polls violence and not the opposition, said General (Retired) Sarath Fonseka's co-media spokesman Janatha Vimukthi Peramuna (JVP) parliamentarian Anura Kumara Dissanayake.
Addressing a media briefing this morning, Anura Kumara Dissanayake said that this fact could be proved by the open statements that Education Minister Susil Premajayantha made yesterday accusing the Opposition and especially the JVP of forcibly collecting National Identity Cards from voters in several areas.
Mud slinging materials are being kept at several government institutions and corporation offices, claimed Mr. Dissanayake.
It is the government goons that are doing these things and blaming the JVP and the opposition, he said. Similarly, the government was also resorting to the spread of rumours like the one this morning which stated that a bomb was to be exploded at the Kurunegala rally attended by General Fonseka.
"This is only a rumour to discourage the large crowds that attend these rallies. We want to know whether the government itself has plans to carry out such a deed. Is this an attempt by the Rajapaksa regime? If so it is a serious matter," added the media spokesman.
Courtesy: Ada Derana