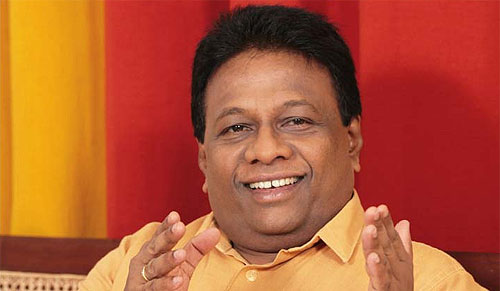 The UPFA yesterday requested the Opposition to stop slinging mud at incumbent President Mahinda Rajapaksa and called for a discussion on his policies.
It claimed that Sarath Fonseka too was slinging mud at President Rajapaksa.
Addressing a UPFA Press Conference at the Mahaweli Centre Colombo, Transport Minister Dallas Alahapperuma said that their candidate, President Rajapaksa, did not engage in such cheap campaigning.
He said Fonseka was using abusive language at his rallies and claimed that it was the first occasion in Sri Lankan history that a Presidential candidate had behaved in such a manner.
"Fonseka said at a rally that he would sack all DIGs after January 26 and banish economists. He had used abusive language on a parliamentarian and called a man who exposed corruption as a "Kalawedda." Such behaviour did not suit a person who wanted to lead the country the Minister said.
Minister Alahapperuma said that he would never engage in such cheap politics. "When I returned from overseas to handle the presidential campaign of in 2005 there were 40,000 posters critical of Opposition Leader Ranil Wickremesinghe. I was opposed to it and we had to set them on fire. Then we entered the campaign without mud slinging," Alahapperuma said.
Answering a question, Minister Alahapperuma undertook to stop the slinging of mud at the Opposition by the State-owned media and requested media personnel to refrain from publishing, telecasting or broadcasting scurrilous statements made by politicians.
Western Provincial Council Minister Udaya Gammanpila said that since there was no response to the Opposition from the Southern Sinhala voters, the UNP had fielded Fonseka. That plan, too, having gone awry, the UNF-JVP combine had capitulated to the TNAís demands, he said.
"The majority of Tamil voters are now with the government," Gammanpila said, "the TNA could only obtain 100,000 Tamil votes."
"The TNAís real strength was exposed at the last LG elections in Jaffna, where it failed to win the coveted Jaffna MC," he said.
Gammanpila said that President Rajapaksa had held a rally in Duraiappa Stadium in Jaffna, the largest ground in the Peninsula and it was packed to capacity. But Fonseka had held a meeting in a small hall with a few Tamil people in attendance.
Courtesy: Island