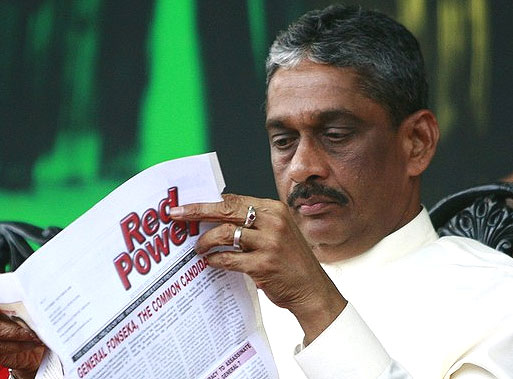 Presidential Candidate Gen. Sarath Fonseka yesterday said that after January 26, he will silence the foul mouth of Labour Minister Mervyn Silva, make him behave like a kitten and pay for the sins he has committed.
"I will expose all corrupt elements in this regime and their misdeeds, when I am elected. They are already aware of this and some of them have developed heart problems and other ailments as they know what is in store for them," Fonseka said.
"I have not entered into any agreement with any party and we co-operate on the basis of trust," he said.
"I will not take revenge from those who were engaged in violence while campaigning against me, though my supporters were attacked by them seriously injuring them, burning our election offices, destroying cutouts, etc. Instead they will be rehabilitated so that they could join society as useful citizens," Gen Fonseka said.
Addressing an election rally in Delgoda, the retired General said that the Jathika Hela Urumaya told him not to contest the Presidential election and I knew they were shedding crocodile tears. But this party is in the wilderness as it has lost its credibility not being able to fulfil the promises it made, he said.
"When I am elected President, I will promote all police officers whose promotions were overdue and increase their salaries, I will not allow room for political interference where police and security forces are concerned under my rule," he said.
Courtesy: Island