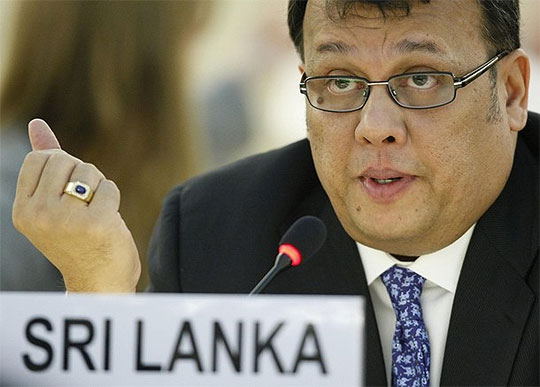 Dear Mr Mahinda Samarasinghe
Following the telecast of the brutal execution of seven Tamils by the soldiers by the Channel 4 News some four months ago, you made it clear that Government of Sri Lanka will file legal action against the Channel 4 Television. Your comment received considerable publicity, but since then there is no report about the government's legal mission against the TV station.
Now I see, the matter has gone further and the UN claiming violation had taken place with the backing of expert evidences. You have rejected this too, but this time did not threaten legal action against the UN.
Channel 4 in its news report quoting your counterpart in the Foreign Ministry Rohitha Bogollagama stated: 'Sri Lanka's foreign minister is beginning to sound like a stuck record. Rohitha Bogollama continues to insist – as his government has done for four months – that the execution video is fake. The story, he still maintains, is "concocted", the source "unreliable", the footage "doctored" and the whole thing part of a "sinister" plot to besmirch Sri Lanka's reputation. The trouble is his "unequivocal rejection" of the video's authenticity now flies in the face of a growing body of independent expert opinion. The latest technical analyses, part of a UN inquiry, comprises reports from a forensic video analyst, a forensic pathologist and a firearms and ballistics expert'.
This quote clearly applies to you as well, as all those took the uneasy stand to undermine the revelation remain exposed and ridiculed in the international arena.
Holding positions as Ministers expect responsible behaviour. Not implementing or not being truthful to their public comments are very serious matters and the evolving war crimes charges are putting you and your colleagues in the Cabinet including the President in a position untenable on this very serious issue.
It is time now for you to tell the public how far you have reached in your legal effort against the Channel 4 Television? I am very keen to know the progress, as I find your legal threat very daring and will pave the way for the truth to come out of any legal hearing in the United Kingdom.
Would you kindly let me know whom you have appointed to represent Sri Lanka in the British Court? If legal case is in the process, how come the High Commissioner for Sri Lanka Rtd Justice Nihal Jayasinghe is appearing on the BBC television and making statements about the violations that could damage the legal case?
I am very keen to hear from you in a public way as Minister in the forefront who is vociferously countering any revelation about war crimes, of the stage of the legal case against the Channel 4.
Kind regards.
Yours sincerely,
Mrs Gowrie Kulasingam
Courtesy: Lanka Guardian