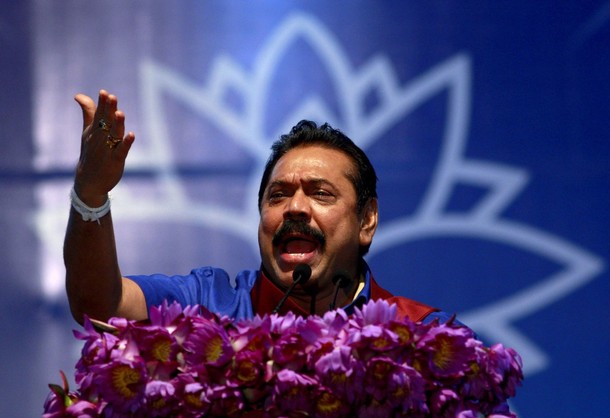 President Mahinda Rajapaksa yesterday said his government never kept even LTTE leader Prabhakaran in hunger, although the LTTE closed down the A-9 (Jaffna-Kandy) road.
Addressing a campaign rally in Chilaw yesterday the President said, "When the LTTE closed down the A-9 route we sent essentials by air .We did not get ships to do that. We did not get Red Cross Flags to do that. But we did not keep even Prabhakaran, against whom we fought, starving. But we were always blamed for violating Human Rights."
He also said the general development of the country was not forgotten while being fully engrossed in defeating terrorism. The development achieved was considerable. Concrete roads were being built in every village, buildings in schools were erected, electricity projects continued, he said.
"We did not only defeat the strongest terrorist force in the world, but also continued with development work. We did not keep the nation in hunger. While doing everything we protected democracy also," he said.
"We held elections in all provinces winning all of them. In spite of the global econ9omic crises we did not keep our people in hunger. We have prepared a programme to uplift the living conditions of fisherfolk. Despite all the other work, we also created enough employment opportunities," the President said.
Speaking further, the President said, "We have to get the services of independent people and not just henchmen, to work on the 17th Amendment."
Instead of getting involved in politics with hatred he said all should work together so that development can be achieved in a united country and work in harmony to build the country.
Courtesy: Daily Mirror