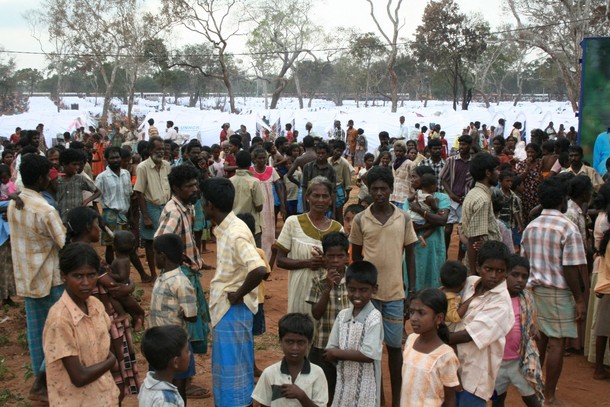 The Government despite having given a pledge to resettle all the displaced people by the end of January 2010 said yesterday that there was no deadline for the resettlement of the Internally Displaced People (IDPs) who were in the camps in Vavuniya.
Disaster Management and Resettlement Minister Samarasinghe told Daily Mirror Online that no such assurances were given earlier.
"We did not promise to complete the resettling process on a particular date. However, the Government is working hard towards completing the process as soon as possible," he said.
He said around 100,000 IDPs still remain in the camps whilst 20,000 have been granted freedom of movement from the camps. The Minister said the Government had organized 'go and see visits' for the IDPs to enable them to visit their homes and allow them to decide if they wished to remain in their home towns or otherwise.
"If they want to return to their homes, then they may. However, if they wish otherwise we will make other arrangement for them," he said.
Minister Samarasinghe said that he could not comment on what would happen to the camps once all the IDPs were resettled, but said that the permanent structures once vacant would most likely be utilised.
A Sri Lankan delegation visiting India earlier this month assured the neighbouring country that it would resettle all the IDPs by the end of January.
The three-member delegation consisted of Defence Secretary Gotabhaya Rajapaksa, Senior Presidential Advisor Basil Rajapaksa and Presidential Secretary, Lalith Weeratunga.
Courtesy: Daily Mirror