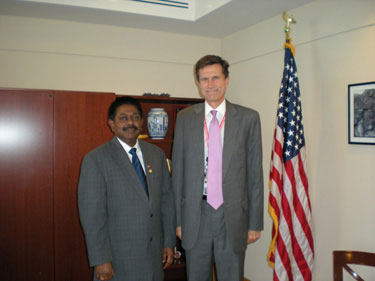 Sri Lanka's Ambassador to the United States, Jaliya Wickramasuriya, assured a capacity Georgia State University library crowd Monday that his nation's recent victory over the Liberation Tigers of Tamil Eelam (LTTE) terrorists will ensure human rights and prosperity for all Sri Lankans, especially those harmed by a quarter century of conflict.
Ambassador Robert Blake, new Assistant Secretary of State for South Asia and Central Asia told at the hearing of the Congressional Subcommittee on South Asia, today that Sri Lanka won an "important victory in the North" when it defeated the Liberation Tigers of Tamil Eelam.
Assistant Secretary Blake, testifying before the House of Representatives Subcommittee on the Middle East and South Asia, called on Sri Lanka to quickly resettle the 300,000 internally displaced persons in the North and to hold provincial elections. "The action the Sri Lankan government takes now," Assistant Secretary Blake said, "in the aftermath of the war, with respect to both humanitarian relief and political inclusion for minorities, will be important to securing an end to terrorism and a lasting peace."
During the hearing, Subcommittee Chairman Gary Ackerman (D-New York) said that, "I think the United States should offer its assistance to relieving the suffering of the displaced as much as we can and, while fully respecting the sovereignty of Sri Lanka, should encourage true national reconciliation."
Jaliya Wickramasuriya, Sri Lanka's Ambassador to the U.S., met with Blake at the U.S. State Department a day before the hearing to congratulate Blake on his confirmation to his new post by the U.S. Senate. The Ambassador and Blake spoke about the Humanitarian issues in Sri Lanka, particularly resettlement of internally displaced people (IDPs) and plans for redevelopment and elections in the North.
Secretary Blake urged not only the speedy resettlement of the IDPs, but also a political process that gives the Northern Province a voice in the national government. He noted that the 13th Amendment to the Sri Lankan Constitution would do that, but that the amendment has to be fully implemented.
Blake also said that other measures to promote national unity are under consideration. Specifically, he mentioned a proposal to form an Upper House of Parliament made up of provincial representatives, and the conclusion of the All Party Conference. Those measures, he said, "would help to achieve political reconciliation."
Ambassador Wickramasuriya said that Blake's confirmation as Assistant Secretary of state for Central and South Asia is a positive development for Sri Lanka, which Blake knows well. Blake served as U.S. Ambassador to Sri Lanka and the Maldives from 2006 until just last month, when he took up his new post in Washington.
"Ambassador Blake has seen the situation in Sri Lanka change dramatically during his service there," Ambassador Wickramasuriya said. "He knows what Sri Lankan citizens have lived through, and the challenges that we face in the years to come. He is a fair-minded person who understands what it will take to ensure lasting peace and reconciliation."
During his meeting with Ambassador Wickramasuriya, Secretary Blake noted that several thousand elderly and disabled IDPs have been allowed to leave government welfare centers, that aid group access to the centers was improving, that restrictions on coastal fishing in the north had been lifted and that two non-governmental organization forums in Colombo and Vavuniya have been established to explore civilian protection and humanitarian issues.