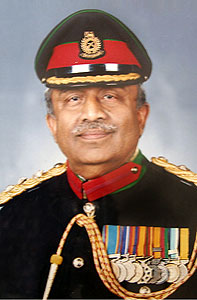 Col. Lawrence De Silva passed away last Sunday after a brief illness at the age of 66. He joined the Nalanda College as a science teacher in 1967 and served there as the Chemistry teacher for O/Ls classes until he retired in 1984 from teaching to join the Sri Lanka Army, to serve as the 1st Commanding Officer of the 11th Gajaba Regiment. He served in the North until his retirement from the SL Army. He was the master in charge of the school cadet core and became the best commanding officer for many years in 1970s.
He was born in Ambalangoda and had his education from Dharmashoka Vidyalaya. Then he joined Nalanda College Colombo 10 to take up his first appointment as a science teacher. He was fondly known as Lawra by his loving pupils. He loved his pupils and pupils loved him. He was very strict inside the class room but he was a friend of students outside the 4 walls. It is very rare to find a dedicated teacher like Mr. Lawrence De Silva who devoted his career for his pupils.
During his period at Nalanda, pass rate for Chemistry was more than 95%, students got very higher grades for GCE O/L Chemistry. He even conducted extra lessons on weekends to help the students to achieve higher grades. During his period the discipline of the college was in a very high standard. Last year when my classmates held a party for the former teachers, he also attended and I was fortunate to talk to him for 15 minutes on the phone.
Col. Lawrence De Silva was a sincere teacher and a friend to all pupils and colleagues, a man of fine sense of humour, a family man and a loving father to his children. Though he is no more with us, the void created by his demise will never be substituted.
With all his virtues and good qualities Lawrence will be remembered mostly as an excellent human being.
His funeral was held on Wednesday 10th Septmeber at Borella Kanatte with full Military Honours He left his wife Daya, 2 sons Indu, Thamara and daughter Yasodha . Address 30, Samagi Mawatha, Depanama, Pannipitiya Te: 00 94 11 5767346
May he attain nibbana
Sisira Chandarsekera
an Old Nalandian