High School Girl Donates Two-Thousand Books to Establish School Libraries in Tsunami-Devastated Areas in Sri Lanka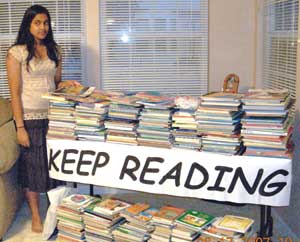 June 30 (IL) Sarasi Jayaratne (17), a junior in Potomac Falls High School and a student of the Academy of Science in Virginia, USA, and a Senior Girl Scout Cadet in the Washington D.C. area, has donated more than 2,000 children's books to schools in the tsunami-affected areas of Sri Lanka through her program Keep Reading. As the founder of Keep Reading, a nonprofit program that fosters educational development, Sarasi is promoting reading and the importance of English as a universal language among disadvantaged children in the tsunami affected areas of Sri Lanka. For the first part of her Keep Reading program, she has selected ten schools with the support from Janavijaya Foundation and is presently donating books to establish small libraries in each and everyone one of them. For more than three months, Sarasi has collected books from local libraries, friends, families, churches, and schools in Virginia. She will distribute these books and teach English in Horizon School at Anuradhapura as a volunteer during her summer break.

Not only does Keep Reading's donations give children the books to encourage reading, but also help restore their confidence of achieving a higher education, a dream that every child should have when they grow up. Her libraries now form the core of Keep Reading program. These libraries aim to teach underprivileged students skills for success in their own futures by specifically introducing them English language.

At the end of the book collection, some of her friends hosted a dinner to celebrate her months of hard work. Both Sri Lankan and American guests came to witness her book collection.

"Alongside these academic goals that the Keep Reading program achieve," says Sarasi, "it also tries to pass important virtues to every child such as peace, tolerance, respect and hope that had been repeatedly shattered by the civil war that has raged on for the past three decades. We use education, and specifically English, as a link language, as a vehicle for bringing students together from all ethnic backgrounds."

Finally, she thanks all the people who donated books. Sarasi can be reached at keepread@aol.com.