"Focus Sri Lanka" Breaks New Ground Bringing Trade, Culture and Adventure to Los Angeles


June 4 (IL) LOS ANGELES: Both the Sri Lankan and trade communities in Los Angeles turned out for "Focus Sri Lanka" May 28-29, an exciting and diverse event that demonstrated Sri Lanka's wide-ranging appeal in the areas of commerce, tourism and marketable products ready for the US market. Focus Sri Lanka began May 28th with a market-style "cash and carry" preview, providing an opportunity for over 1,200 attendees to sample and purchase items imported directly from Sri Lanka. Booths offering Sri Lankan food and other specialties, as well as a live "Cooking with Ceylon Tea" demonstration by celebrity chef Robert Wemischner, made the California Market Center in downtown Los Angeles feel like a colorful, bustling Sri Lankan marketplace!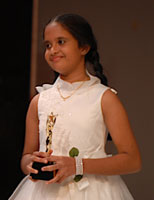 The Focus Sri Lanka cultural show commenced later that evening at 7PM. The world famous Sri Lankan dance troupe, the Channa Upuli Performing Arts Foundation, flew in specially from a tour stop in Japan to entertain the enraptured audience. The Sri Lankan child actress Sarala, now internationally famous for her role in the film "Water" was presented a special achievement award for her work in "Water" by Maureen Dragone of the Hollywood Young Artists Awards organization. Sarala also accepted a special award on behalf of "Water" director Deepa Mehta. The air tickets of Sarala and her parents were sponsored by the USA and Colombo offices of Sri Lankan Airlines. Mr. Dillan Ariyawansa, Vice President/ GSA for Sri Lankan Airlines in North America was instrumental in providing the air travel for Sarala and her parents to attend the event courtesy of Sri Lankan Airlines. His Excellency, the Sri Lankan Ambassador to the United States, the Hon. Bernard Goonetilleke, addressed the audience as did the Consul General of Sri Lanka in Los Angeles, the Hon. Jaliya Wickramasuriya.
Later in the evening, the festivities continued with the first "Ceylon Tea Queen Beauty Pageant." 16 Sri Lankan young ladies, or local young ladies of Sri Lanka decent- competed to be Crowned "Ceylon Tea Queen, and the opportunity to win exciting prized and become the "Brand Ambassador" of Ceylon tea in the United States.
Miss Janinda Gunawardena was crowned the Ceylon Tea Queen for 2007. She won a round trip ticket to Sri Lanka courtesy of Upul Travel Services Inc. and a 5 star accommodation for a weekend stay at the Tea Factory Hotel in Kandapola of Sri Lanka and a VIP tea plantation tour sponsored by the Sri Lanka Tea Board. The first runner up, Ms. Natasha Jayawardena won a round trip ticket to New York City courtesy of E-Destinations Inc., the second runner up, Ms. Shoba Witanarachchi won a round trip ticket to Las Vegas with hotel accommodation for a weekend stay courtesy of Luxury Perfumes Inc. and the third runner up Ms. Nilukshi Jayawardena received a Noritaki Lanka porcelain dinner set made in Sri Lanka courtesy of Sri Lanka Tea Board.
The trade only exhibits day, Tuesday, May 29th allowed top-tier buyers from American companies to browse products and meet with the Sri Lankan exporters face-to-face. Market sectors represented at Focus Sri Lanka included: Fashion, Textiles, Homewares, Ayurvedic spa products, Gem & Jewelery, Spices, Ceylon tea, Natural and Organic products, Gifts, Decorative Accessories, Spices, and Natural, recycled paper. The Sri Lanka Film Cooperation also met with Hollywood's Chief Global Location Executives to tout Sri Lanka as a world-class filming location.
"Focus Sri Lanka brought together enterprising Sri Lanka entrepreneurs with the top American retailers and wholesalers. Contacts were made, relationships were developed and orders were placed," said Gamini Premasiri, the Consul Commercial at the Consulate General of Sri Lanka in Los Angeles. "We look forward to developing these relationships further, and liaising with the American buyers and Sri Lanka's exporters on an ongoing basis."
"Our first 'Focus Sri Lanka' was a great success and exceeded our expectations," added the Hon. Jaliya Wickramasuriya, the Consul General of Sri Lanka in Los Angeles, "We look forward to next year's event and will continue to build this event and 'brand Sri Lanka' both in Los Angeles and in other parts of the world."
The delegates from Colombo included the following : Mr. Thosapala Hewage, Secretary Ministry of Enterprise Development and Investment Promotion, Mr. Lalith Hettiarachchi, Chairman, Sri Lanka Tea Board and Mr. Ajit Perera, Manager Export and Export Promotion of the National Gem and Jewellery Authority.