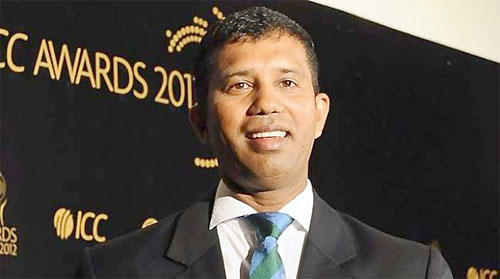 The International Cricket Council (ICC) announced the reappointment of Sri Lankan umpire Kumar Dharmasena for Emirates Elite Panel of ICC umpires for 2016/17 season following the annual review and selection process on 08 June.
The decision was made by the ICC Umpires Selection Panel consisting of Chairman and ICC General Manager – Cricket, Geoff Allardice, former Sri Lankan captain and ICC Chief Match Referee Ranjan Madugalle, ex-England player, coach, umpire and now a commentator - David Lloyd, and former India captain and international umpire Srinivas Venkataraghavan. Following the ICC Umpires Selection Panel's annual review and selection process, ICC has announced an unchanged ICC Umpiring Panel for the 2016-17 season.
The Emirates Elite Panel of ICC Umpires for 2016-2017 will be: Aleem Dar, Kumar Dharmasena, Marais Erasmus, Chris Gaffaney, Ian Gould, Richard Illingworth, Richard Kettleborough, Nigel Llong, Bruce Oxenford, Sundaram Ravi, Paul Reiffel and Rod Tucker.
The game's top umpires displayed their skills to an impressive degree in 2015-2016 by achieving a correct-decision percentage of 95.6 per cent in 220 matches across the three formats of Tests, One-Day Internationals and Twenty20 Internationals.
This is not only an improvement on 2014-2015 figures of 94 per cent, but is the highest since the Decision Review System was introduced in cricket in 2008.
Confirming the elite panel for the 2016-2017 season, ICC Umpires Selection Panel Chairman, Geoff Allardice, said: "The elite panel has had an outstanding 12 months. Based on the individual performances of each umpire, as well as their ability to work together as a group, the selectors have decided that the same 12 umpires deserve to be rewarded with appointment to the elite panel for 2016-2017. "The selectors also noted the improved performances of some of the umpires on the international panel and expect them to be pushing for selection on the elite panel in years to come." Prior to umpiring, Kumar Dharmasena represented Sri Lanka in 31 Test matches and 141 ODIs and was part of Sri Lanka's 1996 ICC World Cup winning side. After retiring from international cricket in 2004, Dharmasena started to concentrate on his umpiring career. He made his international debut as an umpire in 2009, joined the Emirates Elite Panel of Umpires in 2011. In 2013 Former Sri Lankan Cricket star nominated for the David Shepherd Trophy for ICC Umpire of the Year award and won the ICC Umpire of the Year 2012 award at the LG ICC Awards ceremony.
comments powered by