On 23rd April, Ambassador Oshadhi Alahapperuma presented his credentials to the President of Lithuania, H.E. Ms. Dalia Grybauskait, as the Ambassador of Sri Lanka to the Republic of Lithuania, at the Presidential Palace in Vilnius.

The President wished the Ambassador every success in discharging the responsible duties of his position. Ambassador Oshadhi Alahapperuma's visit to Lithuania for his Presentation of Credentials included several meetings with Ministers for discussions of mutual interest for the two countries. On 23rd April, the Ambassador met with the Vice-Minister of Foreign Affairs Mrs. Asta Skaisgiryt Liauskien at the Ministry of Foreign Affairs in Vilnius.

In the meeting, the Ambassador shared with the Vice-Minister about the current developments in post-conflict Sri Lanka and the Vice-Minister inquired specifically about youth-focused action in connection with the rebuilding of the country, which is also a matter of particular concern to the Ambassador. The Vice-Minister also expressed that she wants to visit Sri Lanka in the future and she wished the Ambassador every success as the youngest person to be appointed to this position in Sri Lankan history.

While in Vilnius, the Ambassador also paid courtesy calls on the Lithuanian Minister of Energy Mr. Arvydas Sekmokas, the Minister of Economy Mr. Rimantas Zylius and the Minister of Transport Mr. Eligijus Masiulis.

During his visits to the respective Ministries, the Ambassador had the opportunity to learn more about Lithuania's strategies and progress in the areas of energy, new technology and transport, as well as discuss how Sri Lanka and Lithuania can share knowledge for mutual benefit in these fields and others.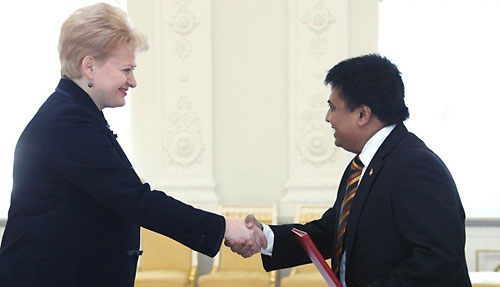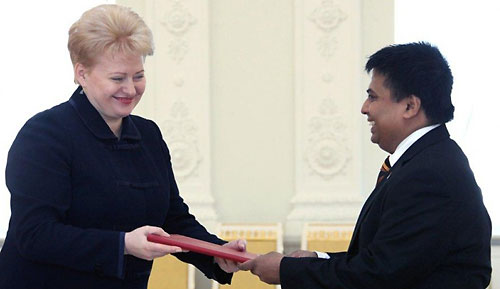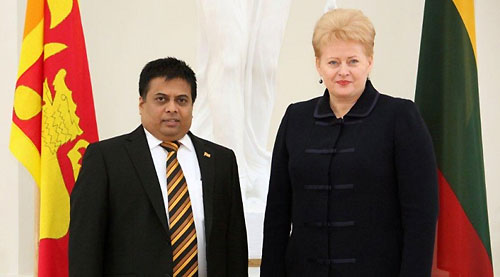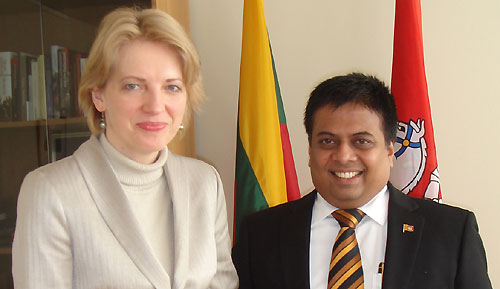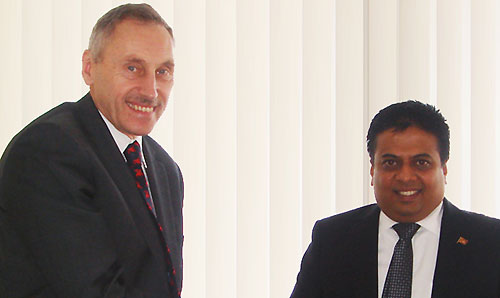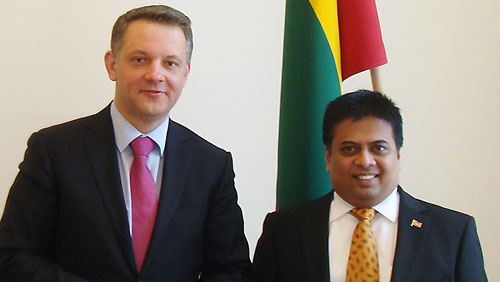 Captions:
Picture 1: Ambassador of the Democratic Socialist Republic of Sri Lanka presenting his credentials to the President of the Republic of Lithuania.
Picture 2: H.E. the President Ms. Dalia Grybauskait? accepting the credentials of H.E. Mr. Oshadhi Alahapperuma, Sri Lankan Ambassador accredited to Lithuania.
Picture 3: Ambassador Oshadhi Alahapperuma with H.E. the President Ms. Dalia Grybauskait.
Picture 4: Vice-Minister of Foreign Affairs, Mrs. Asta Skaisgiryt? Liauškien? with Ambassador Oshadhi Alahapperuma at the Ministry of Foreign Affairs in Vilnius
Picture 5: Minister of Energy Mr. Arvydas Sekmokas with Ambassador Oshadhi Alahapperuma
Picture 6: Minister of Economy Mr. Rimantas Žylius with Ambassador Oshadhi Alahapperuma