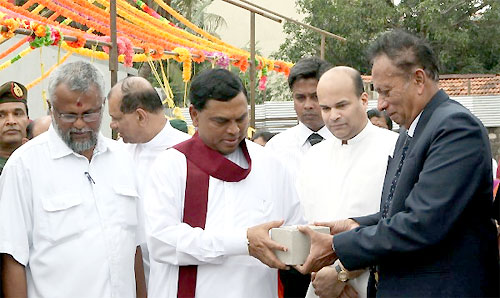 From the world of terrorism to a world where opulence reigns
A new world replaces the old - from the T-56 and cyanide capsule to the opulence of the leisure industry.
This is the transformation coming over Jaffna, with the laying of the foundation stone last week, for Jetwing Yarl, a 76-room luxury hotel project of over 700 million rupees, a joint venture partnership between Mercantile Merchant Bank Ltd., (MMBL) and Jetwing Hotels Limited (JHL).
Jaffna city, and all of the north and the east of the country, for close on thirty years, knew only what it was to die in bomb explosions and from gunfire, heard only words of hate, and felt only terror, pain and sorrow. The Liberation of Tamil Tigers (LTTE), probably the most brutal of terrorist groups in the world, under the leadership of Velupillai Prabhakaran, held the communities of the north and east of Sri Lanka in its vise-like grip, denying them all their basic human rights, most of all, their right to life. The LTTE did not waste any tears on children who died at a tender age by becoming child soldiers. It cared little that youth who could be part of the county's development, lost life and limb, to defend a pipe dream in the name of Eelam, which, fortunately, for Sri Lanka and all who love Sri Lanka, remained a pipe-dream, fading into the misty realms of a nightmarish terrorist past.
With the defeat of the LTTE in 2009, and the annihilation of its entire leadership, the north and east of Sri Lanka became free to reap the dividends of the end of war and the beginning of peace.
One of the overt forms of this is the freedom to experience the kind of development found in other parts of the country – which became a reality for Jaffna last week. It is only a matter of time before the people of Jaffna see unfolding before their eyes, the endless opportunities that come with the advent of the leisure industry to the region. Not only will the luxury hotel require labor, but all ancillary industries associated with tourism will bring hitherto undreamed of opportunities to the people in the north. This will bring an enhanced standard of living which the LTTE never allowed the people to even dream about.
It seems symbolic that the foundation stone for Jetwing Yarl was laid on the eve of Sri Lanka's 64th Anniversary of Independence from the British Empire. It heralds a different kind of independence for the people in the north which the Tamil diaspora everywhere should applaud. The economic independence and personal freedom this venture promises the people of the north is the pot of gold at rainbow's end. It will also be the last nail in the coffin of the T-56 and the cyanide capsule.