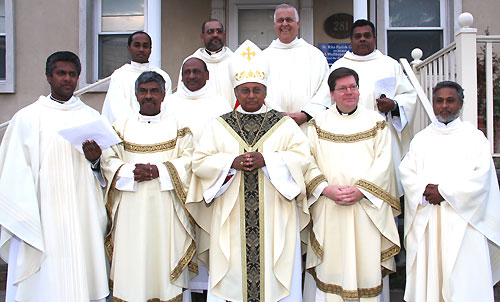 Sri Lankans in the tri-state area had a rare opportunity to witness the first visit of the His Eminence Malcolm Cardinal Ranjith to celebrate the Holy Eucharist with nine co-celebrants at St. Rita's Church in Staten Island, New York, USA on June 17, 2011.
His Eminences' message to the community was to reach out to every individual, especially to the affected parties of the conflict. His Eminence stressed the importance of appreciating their contribution to bring true permanent peace to their mother nation.
The popular Sri Lankan Catholic Choir of New York and New Jersey sang praise worship on this historic occasion. Venerable Bhante Kondanna Thero, Chief Abbot of Staten Island Buddhist Vihara, His Excellency Dr. Palitha Kohona, Permanent Representative and Major General Shavendra Silva, Deputy Permanent Representative of the Democratic Republic of Sri Lanka to the United Nations also graced this great occasion.
The Sri Lankan Catholic Community hosted His Eminence and his entourage to a reception and fellowship. The event was well attended by over 450 Sri Lankans and well-wishers around the tri-state area, and was coordinated by Rev. Fr. Neville Joe Perera, the Coordinator Sri Lanka Archdiocese for Italy.