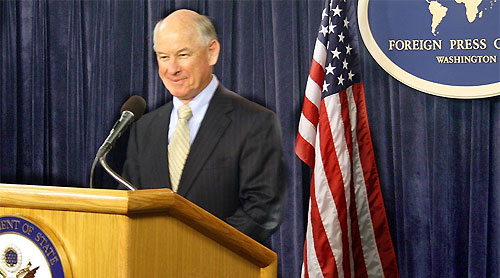 The U.S. State Department spokesman Assistant Secretary Philip J. Crowley answers to a question on Sri Lanka, at the press daily briefing yesterday.
QUESTION: Can I just ask you on Sri Lanka, as far as tribunal is concerned, Amnesty International and the Sri Lankan community were calling on the UN and U.S. that crimes were committed by the government during this 25 years of war, especially now in the last one year, and the president was reelected in Sri Lanka.
MR. CROWLEY: Mm-hmm.
QUESTION: Is there some kind of talks about that investigation of crimes committed against innocent people?
MR. CROWLEY: We continue to encourage the Government of Sri Lanka to have a full accounting of the way in which the conflict ended. This is important to Sri Lanka's future. Sri Lanka did have an election. The government now has all the authorities that it needs to lead Sri Lanka towards a future that involves reintegration of the various communities of Sri Lanka and moving ahead in a way that is in the interest of all of the people of Sri Lanka.
With that, the (inaudible) results and the obvious capabilities of the Sri Lanka Government becomes a special responsibility.
Courtesy: U.S. State Department