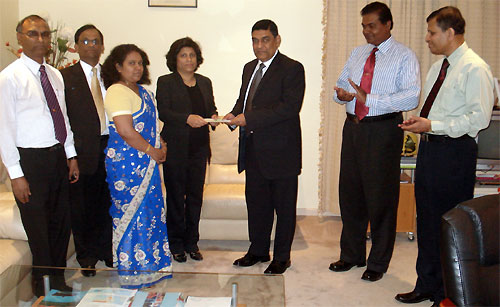 The Seva Vanitha Unit of the Sri Lankan Embassy in Kuwait, out of funds raised through promotional events and charitable activities, has donated Rs. 01 million toward the welfare of the needy children in Sri Lanka.
At a simple ceremony held at the Embassy on 29th September 2010, Mrs. Ramanika Dissanayake, Chairperson of the Seva Vaitha Unit on behalf of its members handed over a bank draft to the value of Rs. 01 million and a letter addressed to Chairperson / Seva Vanitha Unit of the Ministry to Mr. Asoka Girihagama, Director General / OAD of the Ministry of External Affairs , who is on an official visit to Kuwait accompanied by Mr. J.H. Liyanage, Director/ Internal Audit & Investigation and Mr. M.R.H. Swarnathilake, Director/Mission Accounts. While accepting the cheque Mr. Girihagama appreciated the generosity and commitment with which the members of the unit have devoted themselves for a worthy cause. Mrs. Iresha Perera, Treasurer of the Seva Vanitha Unit was also present on the occasion.
The members of the Unit over the 1½ years have undertaken various activities aimed at promoting Sri Lanka's culture, arts & dance, food, handicraft, fashion, etc. through which substantial funds have been raised for the benefit of deserving children, women and others. Part of the funds raised have been already directed to charitable endeavours.
The activities of the Seva Vanitha Unit have been patronized and supported by the members of the Ministry Seva Vanitha Unit and the Sri Lankan community and well-wishers in Kuwait.