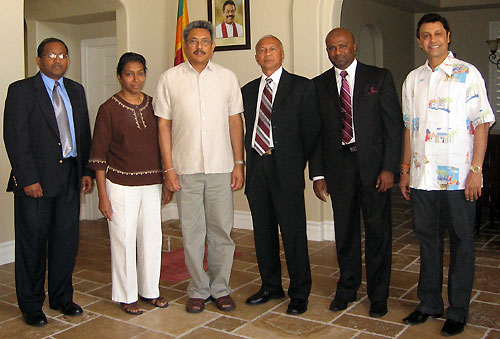 The Nalanda College Old Boys Association of America (NCOBAA) donated a sum of US$ 6,156 (Rs. 700,000) to "Ranaviru Dudaru Scholarship" to educate the children of Sri Lanka War Veterans.
This donation was made at a private meeting held at the Official Residence of the Sri Lanka Consul General to the Western States of USA based in Los Angeles, California on August 1st, 2010.
The donation will be utilized to support this good cause being managed by the Seva Vanitha Unit which is currently chaired by Mrs. Ioma Rajapaksa wife of the Defence Secretary Gotabhaya Rajapaksa, who was also present at the occasion.
The cheque was handed over to the Secretary of Defence, Mr. Gotabhaya Rajapaksa by Mr. Asoka Sellahewa, President of NCOBAA in the presence of Hon. Jeff Goonawardena, Consul General of Sri Lanka to Western States of USA, Mr. Bandula Somaweera, Vice President of NCOBAA and Mr. Channa Samarasena, Treasurer of NCOBAA.
The Nalanda College Old Boy's Association has organized fund raisers and community events in support of the war veterans during the past several years and has been closely associated with the Sri Lanka Consulate General in Los Angeles in numerous community development projects.