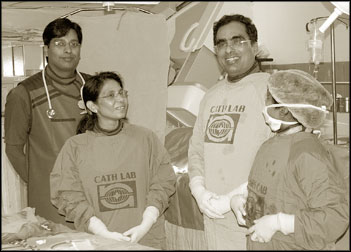 Dr. Sharma, Dr. Lalini Kapuruge and Dr.S.Mithrakumar after their 'landmark' medical interventional procedure
Heart diseases are increasing by the day. Your cardiologist should not only be skilled but give you confidence in the process of treatment and recovery. Kindness and assurance by the Doctor is 9/10ths of the cure.
Dr.S.Mithrakumar is a well known name in the medical field in the asian region. His unique record of curing patients is increasingly day by day that only a few cases could be discussed in paying tribute to a genius with extreme humility and kindness.
For the first time in the history of the Colombo National Hospital a few years ago, a team of cardiologists successfully put together two holes in the heart of a patient using a new technique without resorting to surgery. Interventional Cardiologist Dr. S. Mithrakumar and his team performed this feat on a 13-year-old girl. In this treatment, Dr.S.Mithrakumar had used the amplatzer closure device to mend the two holes in the girl's heart. "We are using this technique to close or treat Atrial Septal Defects (ASD)."
The operation was performed by Dr.S.Mithrakumar and his team which included Dr. Thilak Sirisena, Dr. Guruparan and Dr. Lakshman. Unlike in a surgery, Dr.S.Mithrakumar says the patient could be discharged the next day after treatment and the injury to the body is much less. "There will be no cut marks on the chest or leg and the patient can go home the next day. This system is more advantageous to the patient." This treatment has been provided to nearly numerous patients.
Bypassing the bypass surgery
Heart diseases are increasing by the day and the agony suffered by the heart patients and their families. Their sufferings are further aggravated once doctors recommend the patient to undergo a surgery. The lack of financial strength and other factors like long waiting lists are putting the lives of heart patients at risk.
With the number of patients increasing daily, many are now opting to undergo angioplasty surgery which is called as Perputanious Transluminal Coronary Angioplasty (PTCA) as an alternative to open heart bypass surgery.
Interventional Cardiologist Dr. S. Mithrakumar says this treatment has become very much popular worldwide. "Although it was in practice for the last decade, it is now becoming more popular due to the increasing awareness."
Unlike in a surgery, Dr.Mithrakumar says the patient can go home the next day after a PTCA and the injury to the body is very less. "This is a procedure same as coronary angiogram where you just put a small nick in the leg's artery and do all the procedure. There is no cut in the chest or leg and the patient can go home the next day."
He said there are certain advantages accruing to the heart-patients by undergoing this type of treatment. "The medication is not going to remove the block in the arteries, it will only give a symptomatic relief. I don't think any of these medications will completely prevent further damage or prevent getting another attack."
With the PTCA re-block can occur. But the advantage is doing another PTCA is easier than doing another surgery, he noted.
Interventional cardiologist
Describing the job of an Interventional cardiologist, Dr.Mithrakumar said he treats heart patients by placing devices.
"Interventional cardiologist is also a cardiologist who first tries the medication and failing which, he will mechanically open the block. He will put a wire into the coronary artery and dilate it with a balloon and he will insert a device called a stent."
"If you only put the balloon, the chances of a re-block is around 30 - 40 per cent. If you put a stent it will come down to 10 - 15 per cent.
Now this stent is coated with different drugs which is called Drug Elluting Stent (DES). This continuously releases drugs slowly to further prevent the re-block. So, the re-block rate has come down to 0-5 per cent."
However, this DES is very expensive. "Even with this chances of narrowing arteries are 10 to 15 per cent within the first six months. After six months, it is very less."
He said the DES is much popular in countries like USA and almost all patients are getting this treatment. "The DES was introduced in USA in April last year and within the first three months, they deployed 200,000 stents in America and worldwide, about five million have undergone this treatment."
Dr.Mithrakumar said he had performed this kind of treatment thousands of times.
Earlier surgeons were doing bypass surgeries. "They were bypassing the blocks by using veins and the arteries from the other part of the body. What we do is - open the block by using wires and balloons."
Responding to a question whether most Sri Lankans are going for bypass surgeries, Dr.Mithrakumar said, "No. That's was the trend earlier. Now most of the people are willing to go for angioplasty surgery which is called Perputanious Transluminal Coronary Angioplasty(PTCA). There are certain cases which cannot be treated with angioplasty surgery due to the severity of the block and such people will have to go for bypass surgery."
"Actually, this(PTCA) is the alternative for bypass surgery." he added.
However, still most patients in Sri Lanka are recommended for bypass surgeries. "We are sending most of the people for surgeries because of the financial constrains. The PTCA is costly than the surgery when it comes to more than one block."
He noted that cardiologists are also unable to recommend this due to financial difficulties. "If you are putting three DES, the cost will come to nearly one million rupees and that's why the procedure is not much popular and only rich people are getting it done in the private sector.
Dr.S.Mithrakumar said there are no after effects following this treatment. "No after effects, but chances of narrowing are there. That's why we are recommending this DES. When you put a DES, the chances of a re-block are as same as after a surgery. Even though you can not do a second surgery, you can do angioplasty about 20 times."
"We are taking up more and more cases for angio plasty and this helps to reduce the waiting list for bypass surgery too."
He stressed the necessity of implementing an Insurance Scheme like in Western countries to enable patients to undergo any surgery without financial problems.
He said the Government has already intervened to provide due facilities to patients to undergo this surgery. "But the Government is facing difficulty in providing a sufficient number of stents.
Dr.Mithrakumar said this kind of treatment is well acceptable for young people as they can always delay the surgery and we consider surgery only as the final option.
"Unlike in Europe, a lot of young people in Sri Lanka are suffering from heart diseases. We see a lot of patients with heart diseases between 30 - 40 years. So we do not want to subject to surgery at a very young age as it affects their productivity and phycological aspects."
There are so many reasons for the young to get heart disease, but nothing has been proven. "Definitely, there is genetic elements. Even in Europe, they have found that heart diseases are very common among people who have migrated from Asia. The incidence is very high and definitely there is genetic elements, dietary habits also contribute to this situation." Added Dr.MithraKumar
Prevention of heart diseases
While measures are being taken to treat the heart patients, attention should be paid to educate the people to prevent themselves from getting heart diseases.
According to Dr.Mithrakumar more emphasis should be placed on exercise and dietary habits.
"Compared to many foreign countries, people here do not engage in regular exercise. Only a few people go for regular exercise. "Because even if one has a tendency to get heart attacks, regular exercises prevent massive damage to the heart. Because, exercise helps you to open up more arteries and improve the supply of blood to the heart."
Dr.Mithrakumar advises that the young people to restrict and control their diet." My foremost advise to them is not to eat too much of anything. They must reduce eating anything too much - too much of fat and meat."
"They must also start exercise at an early age and maintain an adequate exercise program."
He also explained that it is more important to see a doctor on a regular basis. "Anybody who is reaching 40 years - even without any symptoms of heart diseases should have an annual regular medical check up. So that things can be diagnosed before it reaches a dangerous stage."
Dr. Mithrakumar is also confident that all treatment for heart diseases in Sri Lanka was on par with international level. "Most of the time, people suffer because they ignore their symptoms and they don't come for regular check ups. People should go for regular check ups after 35 years."
He said people should be concerned about risk factors leading to heart disease. Amongst them is high blood pressure, diabetes, lack of exercise and high cholesterol levels. "A lot of patients ignore those symptoms as they are scared they would end up with a bypass surgery." He attributed that the changes in our lifestyle had also contributed to this situation. "People are consuming more fast foods, smoking and do not engage in adequate exercise while living under stress. On the other hand, people are not relaxing enough."
Referring to the lifestyle in foreign countries, he said although they work hard, they take holidays to relax themselves. "But we are not doing that. While having fast foods, we still neglect doing exercises.
He said worries and depression also increase the risk of heart attacks.