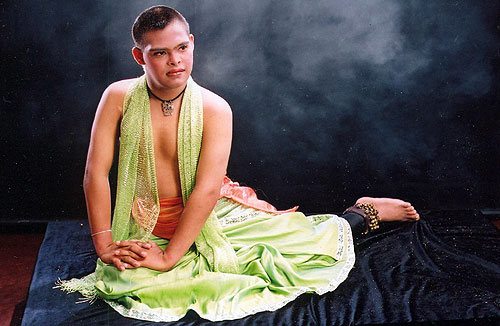 Free performance for Sri Lankan community, Auditorium, University of Maryland (Shady Grove Campus) in Rockville, MD, 6.30 p.m. June 13, 2010
It is indeed a sight to tug at your heartstrings. The solitary figure of a smiling young boy in colorful dancer's attire. Graceful, agile movements synchronized perfectly with the rhythm of music. The passion and the fire in his eyes. The unwavering poise of a professional dancer with a message for his audience at the Department of Education, as part of the International VSA Festival for Arts and Disability, currently held at the John F. Kennedy Center for the Performing Arts, in Washington DC.
The message of Kosala Uditha Kumara Dullewa is loud and clear, and the applause reaches a crescendo. It is an extraordinary performance by an extraordinary dancer.
Kosala who appears to be as normal as any other boy, was born in 1989, with Down's Syndrome. Lalith and Saroja Dullewa celebrated the birth of their first-born son with all the hopes and dreams of new parenthood. Reality turned out to be something they never anticipated, but they courageously accepted the challenge of rearing their special child. Saroja says, "He never asked to be born like that, and if we don't love him, and treat him as if he were normal, who else will?" Their mission from the start was to make the opportunity for him to mingle with normal children, so he could imitate them and try to be one with them as much as he could. His two younger siblings helped immensely in this task. Kosala proved repeatedly that he has a keen aesthetic sense, and that responding to music comes as naturally to him as breathing.
Watching Kosala as a toddler, Kosala's parents realized he had the gift of dancing and started him on dancing classes in 2000. Meanwhile, in 2002, a group of dancers with disabilities, from Switzerland visited Sri Lanka, and on that occasion, 12-year old Kosala made his debut as a dancer in Colombo. That was the beginning of Kosala's incredible achievements in dancing, and he never looked back. He created history in Sri Lanka in January 2004, with his 2½-hour solo performance in Colombo, where he held audiences spellbound with 16 dancing items. He carried away the award for "Excellent Children of the Nation" at the World children's Day in 2004. In 2005, he received the Enabling the Disabled (ETD) Special Recognition Award for Outstanding Performance. Each year, from 2004 to 2009, he was selected Gold Medalist and All Island Winner in the "Special Children" category at the British and International Federation Annual Competitive Festivals. From 2006 to 2008, he competed in the "Normal Children" category and carried similar trophies away. In 2007, he became the first person with Down's syndrome to win the "Personal Improvement Award" for Outstanding Young Persons of Sri Lanka TOYP 2007, organized by HSBC and the Junior Chamber International (JCI) Sri Lanka. His latest triumph, as the Winner of the Over-18 Category at the Arts Festival organized by Esco Rehab Sri Lanka, in December 2008, led him to create history as the first Sri Lankan child with Down's Syndrome to perform at the International VSA festival of arts and disability held in Washington, DC.
Childlike in his innocence, Kosala has no notion of the celebrity status he has achieved for himself. His parents are grateful to be blessed with a child who has led to their being known as "Kosala's parents" and not Kosala being known as "Lalith's and Saroja's son." They can never forget the trials and tribulations of being parents of a child with Down's syndrome, and all the negativity society attaches to the condition. Now, in the midst of their good fortune, they wish to be generous to the less fortunate. In Sri Lanka, they have created the Kosala Dullewa Foundation to help children with special needs. The Foundation gives free training in music, dancing, drama, art, handwork speech and the study of English to children with Down's syndrome. Kosala himself teaches dancing every week.
Their generosity also extends to the Sri Lankan community living in the US. Kosala will perform his "Journey of Courage" free at the Auditorium of the University of Maryland (Shady Grove Campus) in Rockville, MD, at 6.30 p.m. on Sunday, June 13, 2010. Please see flyer below for details.
There is little doubt that Kosala is exactly as his mother describes: an unexpected storm that descended with zest on their well-ordered, conventional lives, overturning popular myths and spreading the sunshine of joy all around, with his incredible gift of dancing.
See Kosala at www.youtube.com/user/KosalaDullewa