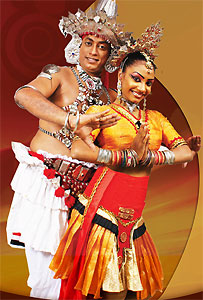 The "Sri Lanka Culture Week" in Kuwait, jointly hosted by the Embassy of Sri Lanka together with National Council for Culture, Arts & Letters will kick off 26th April to 02nd May 2010. The event, the first ever promotions of its kind is co-sponsored by the Sri Lanka Tourism Promotion Bureau (SLTPB) and the Sri Lankan Airlines (SLA) with the support of a host of well-wishers.

H.E. Mr. Bader Abdul Wahab Al Rifai, Secretary General and the staff of the National Council for Culture, Arts & Letters have made all the arrangements in this regard to make the week-long celebrations a success.

A 28-member cultural troupe from "Chandana Wickramasinghe and the Dancers Guild" will perform "Sri Lak Rangana", a cultural extravaganza throughout the week featuring Sri Lanka's well-known historical and contemporary dance and fusion acts while an orchestra will entertain the guests with classical music.

Parallel to the main event a handicraft exhibition will also be held throughout the week, which will feature Sri Lanka's handicraft, cottage industries, handlooms, masks, bronze items, gems & jewellery and other ornaments. A Sri Lankan Food Festival too has been planned at the Crowne Plaza Hotel in Kuwait to introduce Sri Lankan cuisine and flavour to the Arab guests. A Batik Designer/Artist, Sonali Dharmawardene, a member of the group of Sri Lankan artists is scheduled to make special presentations on the theme "Batik, Lifestyles & Role of Sri Lankan Women" to audiences of high profile ladies in Kuwait.

"Sri Lanka Culture Week" will feature following main events and attractions.
"Sri Lak Rangana" cultural performances and classical music
Exhibition of handicraft, artifacts, paintings, cottage industries etc.
Presentations on "Batik, Lifestyle & Role of Sri Lankan Women"
Sri Lankan Food Festival
Presentation on "Destination Sri Lanka"
The Sri Lankan community and well-wishers in Kuwait have conveyed their appreciation to the organizers of the "Sri Lanka Culture Week" for providing an opportunity to experience a truly Sri Lankan event featuring culture, heritage, music, food, fashion, handicraft and other Sri Lankan made products etc.

The celebrations would facilitate further promotion of Sri Lanka - Kuwait relations and would help create awareness on Sri Lanka's rich culture, heritage, dance, music etc. among the Kuwaitis and foreign expatriate community.