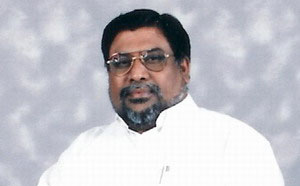 Former Chief Minister of the North-East Varatharajah Perumal said yesterday that the 13th Amendment to the Constitution should be implemented meaningfully and effectively as a stepping stone for greater devolution under federalism.
Speaking to the Daily Mirror, Mr. Perumal said that there were different power devolution models in the world, and Sri Lanka could derive insights from them to develop one of its own to resolve the national question.
Asked for comments about the 13th Amendment as an experiment to find a solution, he said that any such experiment should last only for a few years.
Responding to a query about the demand for the re-merger of the Northern and Eastern Provinces, he replied, "It is our wish. However, the voice should be raised for the re-merger more from the Eastern Province."
He also stressed that he is a socio- political activist, but not interested in election politics.
Highlighting that federalism is not separation of the country, the former Chief Minister pointed out the need to unite the country. He opined that though Sri Lanka is a united country geographically, it remains divided psychologically.
"We have to build Sri Lanka as a united nation not only territorially but also psychologically. Today, many people in the south are concerned that federalism would lead to secession. It is not so. Once these people are convinced that it would bring more and more unity among ethnic and religious groups, they would also support it," he said.
Courtesy: Daily Mirror