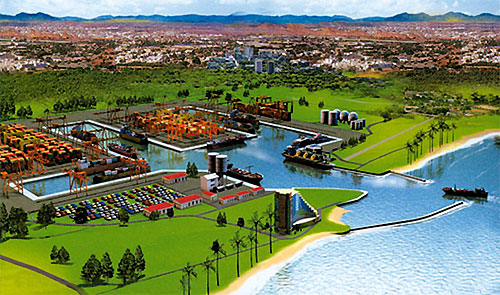 Opposition Leader Ranil Wickremesinghe yesterday said the concept of the Hambantota Harbour was his as it was planned during the UNP government.
Mr. Wickremesinghe made this point at a public rally held in Kiribathgoda town last evening.
He charged that the present government does not have a proper knowledge on development and has no clear policy on it.
"This is the reason why the ruling party candidates come and say they are going to develop Gampaha.
They are not aware that Gampaha is the district which is close to Colombo and a town which is only second to Colombo," he said.
He said former leaders of UNP including the late president J. R. Jayewardene, R. Premadsa and himself had brought development to Gampaha with the Biyagama Export Processing Zone and a host of other projects and the present government does not know it.
"We built roads, the market place and a host of other things," he recalled.
Mr. Wickremesinghe pointed out that the government had missed the opportunity of doing a lot of good things which could have been done easily. He said the government could have set up the independent commissions under the 17th Amendment of the constitution but missed that opportunity.
He said a future UNP would do all that and also provide various relief' to the people including salary hikes for the private sector.
Mr. Wickremesinghe said the UNP had got 85 seats even in their worst election defeats and said the party would be able to form a government with other opposition parties. UNP Gampaha District candidate Ruwan Wijewardene said the Kiribathgoda town which was a busy one, during the Sinhala and Hindu New Year period but had come to a standstill today as no one has the money to go shopping.
He said people came even from Kurunegala, and Kegalle but today everything had changed with the fall of the economy.
He said that 20 leading factories in Biyagama alone had been closed down resulting in thousands losing their jobs.
Mr. Wijewardene pledged to develop the economy under a future UNP government.
UNP Deputy leader Gampaha District candidate Karu Jayasuriya, other candidates John Amaratunga, Sarathchandra Rajakaruna and Bewan Perera also participated in the rally.
Courtesy: Daily Mirror