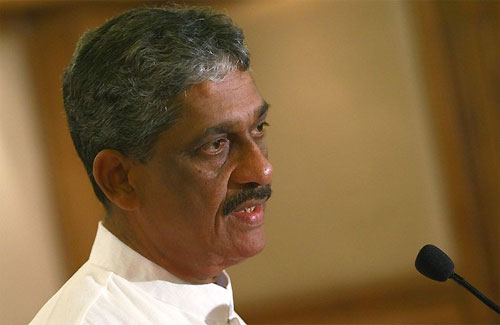 * At this rate soldiers discussing politics can end up in jail
* What about Ministry Secretaries dabbling in politics?
A very dangerous precedent has been established by court martialling General Sarath Fonseka for allegedly discussing politics with opposition politicians, UNP MP Wijedasa Rajapakshe said yesterday.
He told The Island that if talking to opposition politicians was an offense, then any soldier who did not dance to the tune of the Mahinda Rajapaksa government, could also be court martialled.
"At this rate security forces personnel who discuss politics with their wives, relations or friends, face the prospect of being court martialled and kicked around like common criminals."
Going by the government's own yardstick, Some Ministry Secretaries who had openly canvassed for the ruling party during recent elections,in violation of the Establishment Code, will have to be hauled up before Courts, Rajapakshe said.
"When parliament reconvenes on April 6 to debate the Extension of the Emergency, I will move a motion seeking a clarification of the interpretation of the Army Act," he said. "The Army Commander cannot be charged under the Army Act, after he had retired. In any event, preventing a Sri Lankan citizen from discussing politics, is a violation of the principle of freedom of expression as enshrined in the Constitution."
Courtesy: Island