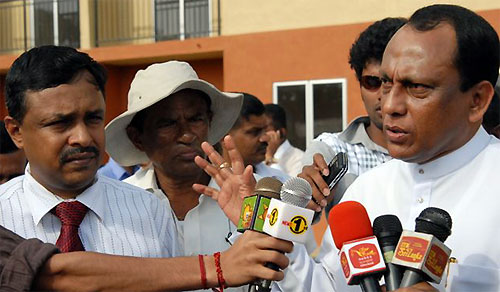 'We don't have to engineer crossovers to secure a two-thirds majority; we will get it easily'
Media Minister Lakshman Yapa Abeywardena yesterday (March 24) said that none of the unsuccessful UPFA candidates at April 8 polls would be appointed to Parliament through the National List. Acknowledging that political rejects had been accommodated previously on the National List, he assured that would not happen again.
Addressing the media at the Information Department, he urged voters would not to allow unsuitable candidates to enter Parliament.
He asserted that although many criticised the preferential vote, it gave voters an opportunity to choose the best, thereby blocking the entry of riff-raff to Parliament.
There there was no point in cartoonists attacking politicians once they were elected to Parliament, he said. The need was to prevent their entry.
When it was pointed out that the ruling coalition could avoid a lot of problems by denying nominations to undesirables, an irate Minister said that voters could deal with them appropriately at the upcoming election.
Responding to a query by The Island, Abeywardena said that the UPFA was not interested in engineering crossovers from the Opposition to secure a two-thirds majority in the next Parliament. "We don't want garbage," he said adding that people would strengthen President Mahinda Rajapaksa's hand by giving him an absolute control over Parliament.
Abeywardena is among about a two dozen UNP MPs, who switched their allegiance to the UPFA, received ministerial portfolios before taking SLFP membership. Almost all of them are contesting the forthcoming election on the UPFA ticket.
Minister Abeywardena, who contests the parliamentary polls in the Matara District said that the Opposition was in total disarray, and posed no challenge to President Rajapaksa, who sought a two-thirds majority. He said that the UPFA could secure six out of eight seats in Matara with ease. According to him, the UPFA could easily overwhelm the Opposition and achieve its target.
Courtesy: Island