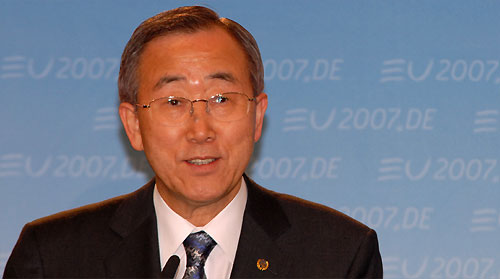 Spokesmen now say there won't be any delay despite NAM objections
United Nations Secretary General Ban ki-Moon this week contradicted his spokespersons and declared that a panel would be appointed to advise him on accountability issues during the final stages of the separatist war in Sri Lanka in May last year.
UN spokesman Martin Nesirky and his assistant Farhan Haq had earlier declared that such a panel would not be named "very soon." The issue was raised at Friday's noon media briefing at United Nations Headquarters in New York.
A UN spokesperson was asked whether the two statements, one by them and the other by the UN Secretary General, were inconsistent since they had caused a lot of confusion. The response of the Assistant Spokesperson showed a quick turnaround to subtle backout from what they said and he made remarks supportive of the UN Secretary General.
Mr. Haq replied: "I can't tell you when the panel will be named. Right now, like we had said over the weekend, the initial work has to do with developing the terms of reference. The Secretary-General is consulting others, including the High Commissioner for Human Rights.
He is quite correct in saying that there will be no delay in setting this up but right now the stage we are at is the terms of reference." In what seemed a quick turnaround, Mr. Haq said no delay "means it's going to happen soon." He was asked whether it would be six months.
Mr. Haq said: "No delay means he is working on it right now. We don't have an announcement to make just yet. Like I said, the work at this stage is on the terms of reference and then beyond that he'll get to the phase of announcing names." Mr. Haq was also asked whether the UN had responded to the Non Aligned Movement letter yet.
The NAM, headed by Egypt, had opposed the appointment of the panel and had asked the UN Secretary General to call it off. Mr. Haq replied: "There will be a UN response to the letter from the Non-Aligned Movement, yes. That should be going out fairly soon."
In Colombo, the Government is continuing diplomatic pressure through several countries to stop Secretary General Ban from going ahead with the appointment of the panel. The government has the support of China and Russia, both members of the Security Council. Several western nations including the United States and Britain want the UN to pursue the accountability issue.
In a bid to thwart the move and demonstrate that the Government had taken note of the international concerns, President Mahinda Rajapaksa has appointed a Committee to examine "lessons learnt" during the separatist war. This will include issues raised by some of the western nations. Since there is an internal probe, countries backing Sri Lanka, say a UN level probe was not necessary.
Courtesy: Sunday Times