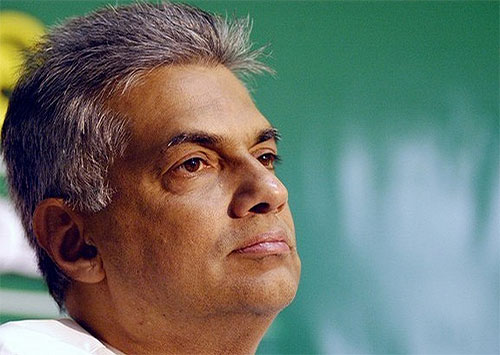 PATRIOT
It is a fallacy to think that only a selected few can be Patriots. We have had great many patriots from the UNP. The first in independent Ceylon (as Sri Lanka was then known) was Rt.Hon.D.S.Senanayake. Then, Dudley Senanayake and the others who defected and formed the SLFP. The then UNP did not accuse the defectors as Traitors and unpatriotic elements. A careful study into the political career of Ranil Wickremasinghe (RW) would reveal the rare combination of experience, expertise and knowledge of the Leader of the opposition.

RW is a Patriot by his own right. We must learn to respect and honour those whom we see as having made valuable contribution to the country and society. He is well respected within the country and in other countries.

FAMILY & PROFESSIONAL LIFE
Ranil Shriyan Wickremesinghe was born on March 24, 1949. He was Prime Minister of Sri Lanka twice, from May 7, 1993 to August 19, 1994 and from December 9, 2001 to April 6, 2004. A member of the United National Party, he was appointed as party leader in November 1994. He is also the leader of the United National Front.

RW, the second son of Esmond and Nalini Wickremasinghe and was educated at Royal College, the Faculty of Law of the University of Colombo and the Sri Lanka Law College. He took oaths as an Advocate in 1972. He is married to Dr.Maithree Wickremasinghe, a scholar and Author.

POLITICAL CAREER
RW was elected to Parliament in 1977. He was appointed Deputy Minister of Foreign Affairs in the government of J. R. Jayawardene, and was later appointed as the Minister of Youth Affairs and Employment. He was later given the portfolio of Minister of Education.

He was appointed as the Minister of Industry, by President R.Premadasa and he initiated industrial reforms and established the Biyagama Special Economic Zone. He was appointed the Leader of the House of Parliament in 1989. On May 7, 1993 RW was sworn in as Prime Minister after the assassination of President R.Premadasa when Prime Minister D. B. Wijetunge was appointed President.

In the Parliamentary general election 2001 UNF, led by RW won 109 seats and PA was able to obtain 77 seats. Consequently he was able to form a new UNF government and was sworn as the 17th Prime Minister of Sri Lanka on 9th December 2001. However the then President Chandrika Kumaratunga still remained as the President of the country. This led to a check mate position where the President and the Prime Minister were from two opposite parties. Although, according to the Constitution, both head of state and head of government was the President, Prime Minister Ranil Wickremesinghe(RW) was able to appoint his own cabinet and he had the control over the government. The then President Chandrika Kumaratunga also chaired cabinet meetings as de facto head, but her influence over decision making was strictly limited.

CBK'S CALLOUS DISREGARD FOR DEMOCRACY
President Chandrika Kumaratunga sacked three ministers of the cabinet and took over the ministries using her constitutional powers ending the uneasy coalition between her and the Prime Minister Ranil Wickremesinghe while he was out of the country. Addressing the nation she claimed that this decision was taken in the interest of national security. Ranil moved out of Temple Trees like a gentleman.

In the Parliamentary elections held in 2004, RW's UNF lost governmental office. Despite the expectation of a full six year term, and planned projects cut short by the defeat, the UNP was optimistic that it could regain power in a future election. Within 14 months of UPFA's victory, the radical JVP wing's (composed of over 30 members) parting of ways with the government, left the UPFA's parliamentary composition well short of the required majority.

In December 2004, RW was nominated by the United National Party as its Presidential candidate for Presidential Elections due in late 2005. The Supreme Court decided in August 2005 that the elections should be held that year despite the then President's argument that her term would end in 2006. The, then Prime Minister, was nominated as the Presidential candidate of the Sri Lanka Freedom Party.

In the Presidential election held on November 17, 2005, RW was defeated narrowly by President Mahinda Rajapaksa, who gained 50.29% of the vote to RW 48.43%. A large number of the minority Tamil population in the Northern and Eastern parts of the country, who were largely expected to back RW were prevented from voting by the extremist Terrorists, which had enforced a boycott of the polls.

DEMOCRATIC IDEALS
Ranil Wickremasinghe has been observed as a cool and patient person with dignified manners worthy of his upbringing and not avaricious and as a politician who observes the decency, decorum and norms of democracy. Unfortunately for RW numerous members who were elected through the UNP defected from the Party for reasons best known to them. These are the traits of politics and the loyalty syndrome lacks its credibility.

ELOQUENCE & STRENGTH
RW is an eloquent speaker- Concise and precise. There is no beating around the bush. He goes straight to the point. No pretences. Absolutely honest and dignified in success and in defeat. His own party men have betrayed him but he remains calm and cool. Never perturbed by defeat but gathering momentum and strength each time he experiences new ideals by defeat. As Swami Vivekananda has said "What are failures and stumbles…they are the poetry of life". RW has become an astute, mature and dignified Politician who never gnashes his teeth to his opponent.

My memory of Ranil Wickremasinghe dates back to Jeyaraj's words which depicted that he found him to be a splendid conversationalist, a man who had read nearly everything and who remembered everything he read.

He is a politician who did not clamor for attention and rarely struggled to get his name attached to publicity.

He speaks with confidence and with clarity in his own style. He is a great and fascinating orator. He was immensely tolerant of other people and looked after his friends, whether they had something to celebrate or much to fear.

Let me quote Rudyard Kipling's poem on IF which illustrates the characteristics of RW

If you can keep your head when all about you 
Are losing theirs and blaming it on you; 
If you can trust yourself when all men doubt you, 
But make allowance for their doubting too: 
If you can wait and not be tired by waiting, 
Or, being lied about, don't deal in lies, 
Or being hated don't give way to hating, 
And yet don't look too good, nor talk too wise; 
If you can dream - and not make dreams your master; 
If you can think - and not make thoughts your aim, 
If you can meet with Triumph and Disaster 
And treat those two impostors just the same:. 
If you can bear to hear the truth you've spoken 
Twisted by knaves to make a trap for fools, 
Or watch the things you gave your life to, broken, 
And stoop and build'em up with worn-out tools; 
If you can make one heap of all your winnings 
And risk it on one turn of pitch-and-toss, 
And lose, and start again at your beginnings, 
And never breathe a word about your loss: 
If you can force your heart and nerve and sinew 
To serve your turn long after they are gone, 
And so hold on when there is nothing in you 
Except the Will which says to them: "Hold on!" 
If you can talk with crowds and keep your virtue, 
Or walk with Kings - nor lose the common touch, 
If neither foes nor loving friends can hurt you, 
If all men count with you, but none too much: 
If you can fill the unforgiving minute 
With sixty seconds' worth of distance run, 
Yours is the Earth and everything that's in it, 
And - which is more - you'll be a Man, my son! 

The writer can be contacted on levinstcrajaratnam@gmail.com