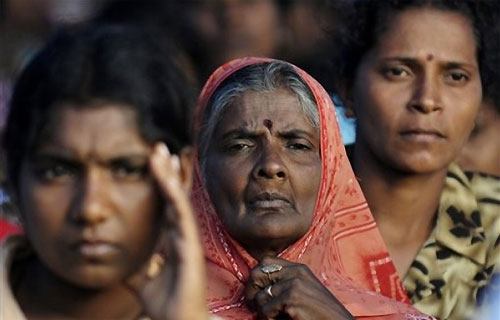 With nearly 200,000 people still displaced in the North — some living in temporary camps while others squat with host families — international agencies are running out of money to meet urgent needs like water supply and resettlement grants, according to a report released last week.
The funding crisis follows the government's refusal to endorse the 2010 Common Humanitarian Action Plan (CHAP), authoritative sources said. Produced annually through a collaboration of all major humanitarian assistance groups in the country (including UN agencies), the CHAP is a document listing out priority areas for donor funding along with estimates. This is usually released to the international donor community by way of consolidated or flash appeal and offers information about sectors that require injections of aid.
In Sri Lanka, the CHAP is developed under the leadership of the UN Office for the Coordination of Humanitarian Affairs (OCHA). The last appeal should have been sent to Geneva in January - or earlier - but has not been endorsed by the government which feels the mechanism is useless. Consequently, there is still no consolidated appeal for humanitarian assistance to Sri Lanka this year.
LAKBIMAnEWS learns that the OCHA was in negotiations with the government until last week to have the document released after approval. But on Friday, a letter was issued to the OCHA by the presidential task force headed by Basil Rajapaksa saying the CHAP was no longer necessary. The government's contention is that humanitarian and other assistance for the North and East should be channelled through the task force and line ministries rather than via the OCHA.
Authoritative sources said that the government was keen to put its stamp on development and other work carried out in the North, particularly during election time. "The government feels it would not be politically helpful for the population to think a lot of work is being carried out by non governmental agencies," one UN source pointed out.
Against this backdrop, the Joint Humanitarian Update produced by the UN, other leading agencies and NGOs for the fortnight of 13 to 26 February indicates in understated language that a lack of funds may cause "gaps" to emerge in child protection and psychosocial counselling as well as prevention of sexual and other forms of gender-based violence. It adds that a closure or scaling down of projects across sectors — particularly education, health, food and nutrition — may have a detrimental impact on the overall protection environment.
Shortage
The report also discloses that, even as IDPs leave Menik Farm, a shortage of teachers continues to affect education services for children remaining at the camp. While a pool of volunteer teachers will be trained to fill this requirement, "decreasing funds will limit the scale of remuneration that can be offered to the group".
Funding shortages are affecting the continued provision of water, sanitation and health services at Menik Farm, it states. The bowser fleet capacity had decreased by 50 percent at the end of February. Consequently, the supply standard of 10 litres per person is no longer being achieved.
The National Water Supply and Drainage Board have also suspended its bowsers due to lack of funds. Aid agencies warn that the maintenance and decommissioning of water, sanitation and health facilities at Menik Farm, water bowsering and waste management are threatened by a lack of funding after March and April. As of 1 March, only three agencies are engaged in shelter maintenance at Menik Farm with the absence of funds compelling other shelter agencies to stop their activities.
The Joint Humanitarian Update states that 99,066 people are still accommodated in temporary camps at Vavuniya, Mannar and Jaffna. Menik Farm houses a majority of them, numbering 93,926.
While 183,755 people have been released and returned in Vavuniya, Mannar, Jaffna, Kilinochchi, Mullaitivu, Trincomalee, Batticaloa, Ampara, Polonnaruwa and Kandy, only 83,720 of them have been resettled in their places of origin. A staggering 98,843 are still living with host families. This would mean that nearly 200,000 people remain displaced.
Zone 5 in Menik Farm is now being used as a collection centre for IDPs during return movements, allowing them access to water and sanitation while they await transport to their districts of origin. The provision of cooked meals for IDPs at this centre may cease due to lack of funds.
Exceeded capacities
The report states that, although a number of NGOs have received approval to implement projects in Kilinochchi and Mullaitivu, "capacity" remains limited. "With increasing IDP returns to these areas, the need for shelter and water, sanitation and health facilities has exceeded capacities available on the ground," it says.
Asked to clarify the couched terminology of the report, an authoritative UN official admitted on condition of anonymity that the resources of many humanitarian agencies dealing with IDPs are depleted.
"We are running into funding difficulties in some areas including activities we have been supporting at Menik Farm and in resettlement areas," she said. "In resettlement areas, a critical gap is related to the cash grant for shelters. There are also gaps in assistance towards agriculture. We have received about five times the amount of requests that we have funding for."
The official said some agencies were "on their last weeks of funding" and that it would then be the government's responsibility to continue the services these organisations had been providing. "The government has indicated in our negotiations that it is willing and capable of doing that," she noted. "It has already put substantial resources into Menik Farm and resettlement areas but the UN and non governmental organisations have also contributed substantially."
At present, some agencies were drawing on leftover funds while others were spending monies directly contributed by donors bypassing the CHAP mechanism. The OCHA has also briefed donors to "try and cover the most urgent gaps" until an understanding is reached with the government about the way forward.
Courtesy: Lakbima