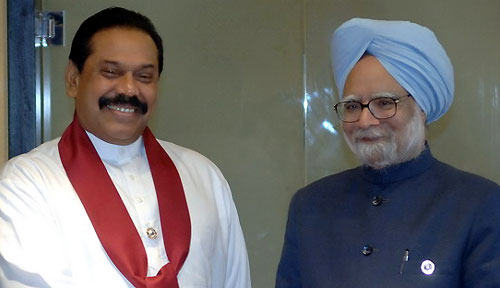 When the war against LTTE in Sri Lanka got over, it was thought that finally peace would arrive in the island nation after a brutal civil war for more than three decades. It was expected that there would no more be any major turmoil in that country and that finally it would be able to concentrate on the much ignored economy. It was also expected that tourism, which has been one of the mainstays of its economy, would finally get a breather now that the chances of any more conflicts would come down drastically. But all those presumptions now seem to be premature given the shocking developments taking place in Colombo in the last few weeks.

Riding on the overwhelming popularity that Sri Lankan President Mahinda Rajapaksa has been enjoying since his endeavour to take the LTTE head on and finish its top leadership without capitulating to global pressure against the same, he called in for elections much before it was due. But little did he predict that his closest confidante and the real architect in the victory against LTTE – former Sri Lankan Army General Sarath Fonseka – would also stake his claim to this popularity and contest the election.

Needless to say that Fonseka is one of the shrewdest and most tactical army generals of the world in recent times, given the way he defeated the LTTE even when the Americans are struggling in Iraq and Afghanistan. So, for someone like him coming to the election process, should ideally have been seen as an indicator of a healthy democracy. But Rajapaksa took it as a personal insult and threat to his own popularity and survival.

Thus, when the election verdict came out and Rajapaksa won with convincing majority (cornering 57% of the votes as against 40% of Sarath Fonseka), he became vindictive. Fonseka himself had been extremely concerned for his life since the election results were out. In fact, the election process itself is doubted to have had major rigging and other malpractices to make the result in favour of Rajapaksa.

Fonseka had been so worried about his personal security that he had even sought help from the Indian government. But the Indian government, in its own style, turned out his requests of mediation or giving any asylum to him by terming the incidents inside Sri Lanka as internal matters of that country. While this Indian response could have its genesis in past Indian misadventures in Sri Lanka, this inaction of India bolstered Rajapaksa to take the next step of dissolving the parliament and arresting the former general by slapping a charge of divulging sensitive information to the public, and of plotting both a coup and an assassination attempt on the president and his family. Now that Fonseka has been arrested, there's no trace of where he has been kept in confinement. And shockingly, the Indian government still chooses to remain silent!

Irrespective of Fonseka's flip-flop statements in the past where he has said one thing at a time and meant something else at another, at least there isn't any doubt in the fact that Fonseka has been a true patriot for Sri Lanka and a real warrior, who led from the front and without whom, it would have been impossible for Sri Lanka and its incumbent president to either win the war or to take credit for it. A genuine government would have treated him like a war hero and given the highest honour of the country.

But the sudden turn of events and his humiliating arrest – coming at such close heels of the elections – exhibit a suspiciously blatant misuse of power on the part of Mahinda Rajapaksa. It is pertinent to note that across many nations suffering political turmoil, this has been an uncannily common trend – of the winning party arresting the opposition leader on charges that seem outrageously egregious.

Just take a look around at India's neighbours and you'll get what I mean. It is also a fact that not everyone in Sri Lanka is happy with the way the former general has been treated. If the fight against the LTTE united the Sinhalese against a common enemy LTTE, then this incident between pro and anti-Rajapaksa groups can ignite another and violent unrest in Sri Lanka. And at a point in time when the priority of the government should have been to ensure that the battered economy is taken care of and the fragile unity of the whole country is given a facelift, the current moves against Fonseka are perhaps sowing the seeds of another major unrest.

While on one hand the inaction of Indian government is worrisome, on the other the disturbing fact is whether the Sri Lankan President is doing it on his own or being made to do this by someone else with vested interests in South Asia? There is no doubt in the fact that there is clear tilt of the Rajapaksa government towards China and the latter too has been a big supporter of Sri Lanka during the war against LTTE – as Chinese arms reportedly played a crucial role in tilting the scales in favour of the Sri Lankan Army.

But is it that China is trying to take some mileage out of all this by making Rajapaksa do things in a particular manner? Is China, through a proxy ruling, trying to destroy the democratic system of Sri Lanka, given the way the Sri Lankan President has been crushing on the opposition parties and any voice that is raised against them? (It was almost a year back that the editor of The Sunday Leader and a friend of the president, Lasantha Wickramatunga was murdered in broad day light).

While many of these questions are nothing more than questions right now, what one is demanding is not that India support Fonseka (or reject Rajapakse – the man could well turn out to be an extremely helpful ally to India if handled well), but to realise that unless India re-emerges in the South Asian diplomatic circles – and in this case, in Sri Lanka – as a vociferous opinion leader and commentator, China, for all its rights and wrongs, would easily take over the mantle of being the new foreign policy leader in this region. India's intervention in Sri Lanka, therefore, is an immediate imperative!