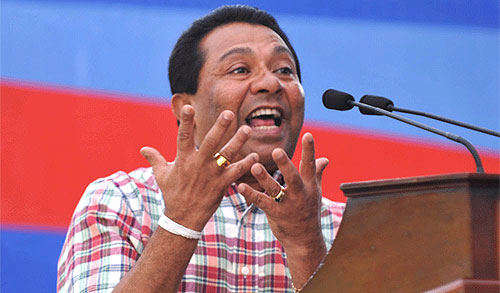 The SLFP Organiser for Udunuwara S.B. Dissanayake yesterday described detained Opposition Presidential Candidate General Sarath Fonseka as an 'innocent person' to some extent.
"To a certain extent, General Sarath Fonseka is innocent. He cannot understand. When two, three thousand people gathered around and took his hands, he mistook it and thought that he could win. We know very well about elections. Even around me there were around six hundred people. My house was full of them. When I returned home after the election there were only 422 people, Mr. Dissanayake told media at his residence in Hanguranketa.
Mr. Dissanayake also said that the allegation that the last presidential election was rigged was a grave insult to the voters. Although UNP claimed that the election result was a fraud, voters' rights had been robbed, and that "it had been a 'Computer Gimmick', petitioners had not mentioned anything like that in the Election Petition," he said.
Commenting on the arrest of General Fonseka, Mr. Dissanayake said that Venerable Prelates must consider that with seriousness.
"The statement made by General Fonseka on 'white flags' cannot be treated lightly as it is a very serious allegation. What has happened to the retired General now, happened to S.B. Dissanyake too in the past.
"When I was in prison and when the UNP supporters protested, an order came from higher up not to do so," he added.
Courtesy: Daily Mirror