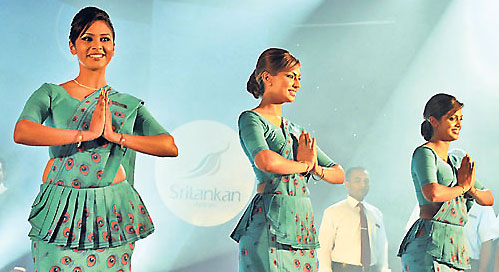 Man's reluctance for change is rooted on his fear to lose what gave him a sense of security and comfort. It's quite natural therefore for one to look at the latest facelift of SriLankan, the national carrier of Sri Lanka, with some apprehension.
There was a time that all Sri Lankans were extremely proud of the national airline Air Lanka before it became SriLankan. With an excellent inflight service, extremely polite and charming flight attendants and an efficient ground handling staff it made the entire nation proud. It was also the first choice of the inbound tourists to the region.
Then came the political meddling. A very few airlines in the world would have gone through the trauma that our airline went through under consecutive governments. This saw us losing our best pilots to other airlines like Qatar. We witnessed a drastic drop in the cabin service and the beautiful stewardesses became only a thing of the past. Political appointees with poor managerial skills ruled the roost and as a result of this deterioration in quality combined with the hike in ticket prices even Sri Lankan citizens opted for other airlines.
The efforts to give a makeover to SriLankan, a long felt need should be appreciated. However more important is to make sure that there's a minimal interference by politicians in the operations. SriLankan should run by professionals who are keen to improve the quality of the airline and not by those who are out to make a quick buck.
Ok many still prefer the dark green uniform to the soft hues of sea blue of the new one introduced on Tuesday. Perhaps the latter may look better in real than in photos or we may be biased towards the old one since we are quite sentimental about that.
The change of menu has also drawn mixed reactions. While some of the items on the new menu had been warmly welcomed many still are trying to come to terms with '..homemade chocolates centred with kitul treacle, chillie, wood apple and pink goraka, jakfruit cheese cake and beetroot'. Quite exotic one may say.
Whatever it is SriLankan is our own and our pride. It had gone through trying times but still has survived somehow. Things could have been much worse given the degree of political meddling it had to go through. Though there's a drop in its client base among the international community, compared to let us say about fifteen years ago, there's still a section of tourists who go for Srilankan when they have an option to do so.
The surge in the tourist arrivals following the end of war has provided SriLankan with new opportunities. The facelift one may therefore say is quite timely. Let us hope that our national carrier will always fly high, far above the others.
Courtesy: Daily Mirror