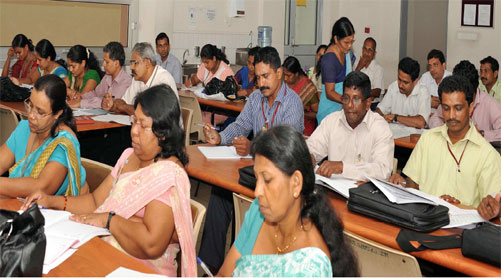 The Central Bank of Sri Lanka, having understood the importance of possessing proficiency in Tamil language of its staff, has launched a scheme for facilitating its staff to enhance the mastery of Tamil languages with the collaboration of the Department of Official Languages (DOL). The main objective of the scheme is to equip its staff to discharge duties adhering to the Government language policy specified in the articles 18 and 19 (Chapter IV) of the Constitution of Sri Lanka.

Under this scheme, over 200 officers in all categories of CBSL are now undergoing training conducted by DOL. These officers are required to undergo 108 hours of training (lessons) before they sit for the written and oral examination conducted by the DOL. At the classes, priority has been given to improve the speaking and writing knowledge (skills) of the participants.

Many employees of the Central Bank, irrespective of their classes and grades of employment, have shown a keen interest in participating in these classes.

The Central Bank believes that this programme will be helpful for officers to discharge their duties relating to development activities in North and East more effectively, to build the ethnic harmony in the country and eliminate language difference of the Tamil and Sinhala communities.