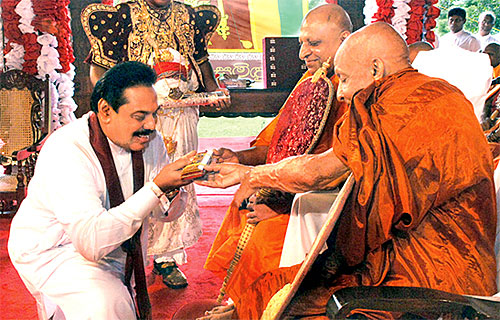 The four Mahanayaka Thero including the prelates of Malwatte and Asgiriya in a joint memorandum have urged President Mahinda Rajapaksa to release General (Retd.) Sarath Fonseka and his colleagues in custody.
The Mahanayake Theros have told the President that hatred cannot be conquered and therefore disregard what Fonseka had uttered during election times.
The joint memorandum was forwarded to President Mahinda Rajapaksa with the signatures of the most Ven. Mahanayake of Malwatte Thibbatuwawe Sri Siddhartha Sumangala, most Ven. Mahanayaka of Asgiriya Udugama Sri Buddharakhitha, most Ven. Mahanayaka of Amarapura Mahanayaka Davuldena Gnanissara and most. Ven. Mahanayayka of Ramagna Mahanayaka Weweldeniye Medhalankara.
The Mahanayaka Theros have said that they were intervening in the Sarath Fonseka affair in keeping with the tradition that the Maha Sangha of the ancient times followed as regards disputes between the country's rulers and others.
The Mahanayaka Theros have cited as example of intervention of the Maha Sangha in a dispute between King Dutugemunu and his brother Tissa.
Similarly Ven. Weliwita Asarana Sarana Saranangkara, Wariyapola Sri Sumangala and Migettuwatta Sri Sumangala Theros came forward at times of national crisis according to recorded history.
Similarly, the Sangha had felt the need to come forward at this moment to settle dispute between the government and a former commander of the army, the prelates have said.
The Mahanayaka Theros have told President Mahinda Rajapaksa that the utterances by the retired General Fonseka during the election as a rival candidate should be ignored as the former LTTE terrorists such as Karuna Amman and Pillaiyan who even attacked the Dalada Maligawa and the Sri Maha Bodhi killing murdering many people had been pardoned and accommodated in the government ranks.
Courtesy: Island