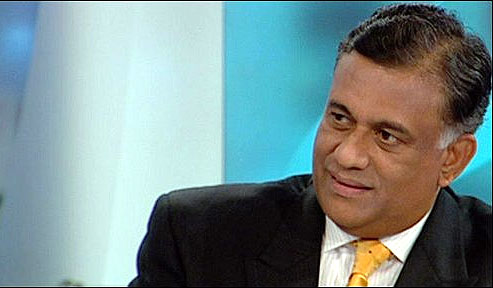 Foreign Minister Rohitha Bogollogam said his Ministry had no intention of pursuing the allegations made by Defence Secretary Gotabhaya Rajapaksa that the United States and Norway supported the election campaign of defeated presidential candidate General Sarath Fonseka.
"With the Norwegian and American embassies rejecting the allegations on Thursday there is no reason to pursue the matter any further," Mr. Bogollagama told Daily Mirror Online.
"Norway has never and will never interfere in the affairs of other countries, neither will we undermine or attempt to oust a democratically elected government and president", the Norwegian Embassy said in a statement.
The US Embassy in a statement said there was "no truth to the Sri Lankan Defense Secretary's claims that the US provided financial support to the opposition candidate in Sri Lanka's presidential election."
Meanwhile, the Foreign Minister briefed the Diplomatic community on the government's decision to arrest General Fonseka.
"The Government had strong reasons to arrest General Fonseka. He had acted in a manner prejudicial to the responsibilities of the senior posts he held during his service as a military officer," he told diplomats.
The Minister stressed that the Military Act under which the General was being prosecuted was inline with British military law. "The Army Act No.17 of 1949 was enacted about 1 ½ years after we gained Independence, it was therefore natural that the structure and concepts behind our Army, including the provisions of the Act governing its setting up, should be modeled on the lines of British military law," the Foreign Minister said.
The Minister elaborated on the legal provisions available to the General.
"At the time of the arrest, the alleged offences were read to the defendant. As the investigation proceeds, a Summary of Evidence will be recorded, on the basis of all witnesses having to make their Statements of Evidence under oath. After the recording of evidence of each witness, the Statement will be read to him and his signature will be obtained.
The defendant has the right to be present when the Summary of Evidence is recorded on a basic Charge Sheet. He also has the entitlement of cross-examining all of the witnesses. As a further safeguard, the defendant is cautioned that he has the right to make a Statement or to remain silent. He is also entitled to call witnesses to give evidence on his behalf.
It is important to note that the defendant has the right to retain lawyers of his choice to defend himself during the Court Martial proceedings. The Court Martial itself is governed by the Disciplinary Regulations of 1950 and the Court Martial Regulations of 1950, promulgated under Section 155 of the Army Act," the Minister said.
Courtesy: Daily Mirror