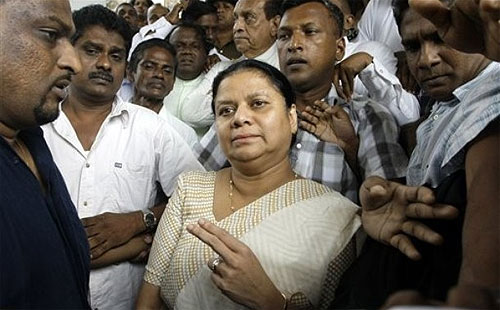 Anoma Fonseka, the wife of General(Rtd) Sarath Fonseka yesterday questioned the "motive of imprisoning" her husband, a former army commander at Naval Headquarters.
Addressing a news conference in Colombo, she said that to begin with there was no legal basis to "imprison" her husband at any place. But,the detention of a retired army commander at naval headquarters, was suspicious to say the least.
"My husband was dragged like an animal to the Naval Headquarters. He is surrounded by hundreds of armed personnel, with no access to radio, television or even a newspaper," Anoma said. "Even when I was allowed to meet my husband after several appeals, there were several people listening to our conversation. This is nothing but harassment, because he challenged President Mahinda Rajapaksa for the Presidency."
Anoma appealed to all right thinking people, including women, to join her in the campaign to free Fonseka. "My husband has not violated the Military Act nor the Constitution of this country by his actions. We will continue our public agitation until democracy is re-established."
A peaceful protest held on Wednesday, demanding the release of Sarath Fonseka, was broken up government goon squads. Thereafter the police fired tear gas. However, intimidatory tactics cannot derail the public's determination to face any eventuality, she added.
Courtesy: Island